Hill & Partners, Inc., a full-service team of branded environment specialists, has hired a new controller to join its team.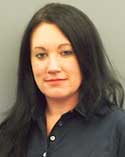 In this role, Sarah McGill  is in charge of coordinating, planning and reporting on the financial activities at Hill & Partners. In addition, she maintains employee benefit information and performs a variety of human resources duties.
"We are very pleased to welcome Sarah to our Hill & Partners family and are certain that her knowledge and demonstrated commitment to excellence will contribute to the growth and success of the company," said Michael McMahon, president and CEO, Hill & Partners, Inc.
McGill has 16 years of experience in the accounting industry. Prior to joining Hill & Partners, she was controller at the Braintree law firm of Smith & Brink; previously, she was business manager with Second Nature in Boston.
McGill received a bachelor's in accounting from Bridgewater State University and is currently working toward her CMA (Certified Management Accountant). She is a member of the Institute of Management Accountants (IMA).
"I feel very fortunate to work at Hill and Partners; I enjoy the variety of responsibilities and have great respect for the team I am a part of," said McGill. "And it is refreshing to work with a President/CEO who is truly vested in the personal and professional well-being of his employees."