Hill & Partners, a full-service team of branded-environment specialists, has promoted a seven-year member of its team to vice president of accounts.


Matthew Johnson of Somerset, Mass., will play a strategic role on the company's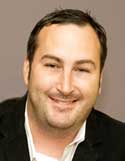 leadership team. His primary responsibilities will be focused toward the continued development of client-centered policy and procedures while fostering client and partner advocacy in all phases of the branded-environment experience.
"We are more than pleased to announce Matt's expanded responsibility as vice president of accounts," said Michael McMahon, president and CEO, Hill & Partners. "His skill, experience and general commitment to excellence make him the perfect choice to fill this pivotal role as we continue to grow the global presence of our clients and our firm."
Leading a team of seasoned veterans and carefully selected associates, Johnson will continue to provide exceptional account service to Hill & Partners' growing list of clients. Johnson, who has been with Hill & Partners for more than seven years, will continue to represent the full-service firm at external events.
Johnson was graduated from Quinnipiac University with a bachelor's degree in mass communications. Johnson originally is from Smithfield, R.I., and makes his home in Somerset with his wife and their children.
Hill & Partners is a full-service team of branded environment specialists with a network of skilled partners throughout the country and world. Established in 1995, Hill & Partners has provided professional exhibit-management services for more than17 years and has been named one of the Boston area's fastest-growing companies by the Boston Business Journal.