Hill & Partners, an innovative team of branded environment specialists, provided custom environments for eight clients including brand new designs for Terramar Sports, Khombu and Polartec. This totaled 7,400 square feet at the Outdoor Retailer Winter Market in Salt Lake City, Utah from Jan. 20 – 23.
"The Outdoor Winter Retailer is our largest tradeshow event of the year, and we get excited to bring our long-tenured marquee clients back year after year and expose new clients to the show as well," said Matt Johnson, vice president of accounts, Hill & Partners. "This show is like our Super Bowl, our Game 7, and we spend extra time and preparation to ensure our clients get the winning results they look to achieve."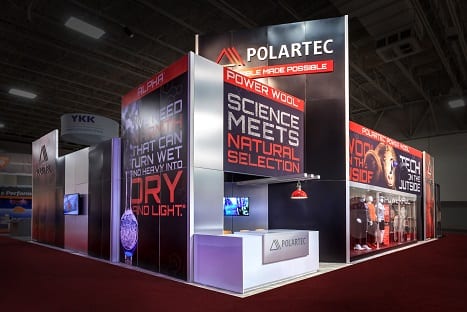 Terramar Sports produces performance enhancing products and apparel to encourage and inspire healthy lifestyles. To reflect the brands values and essence, Hill & Partners created an "outdoor retail environment" that displayed the products in their element. The Terramar team simultaneously worked to communicate and reinforce the brands values to potential buyers.
The Hill & Partners team also worked with Khombu, a brand of ATSCO Footwear, to construct an environment that reflected the brand's most recent focus and tagline, "All Seasons. All the time." As a brand primarily known for winter-geared products, the team created a revamped tradeshow space that mimicked the brand's all-season focus. The 20×30 and 20×20 spaces incorporated eclectic textures and materials, such as woods, concrete and iron that generated a "rustic" ambience.
Hill & Partners' third environment at the Outdoor Retailer Winter Market was for long-term client Polartec; which marks their 20th year of working together in the Outdoor Retailer show. Polartec produces innovative materials and fabrics that allow outdoor enthusiasts to endure and defy even the worst of elements. The team designed a space that reflected the brand's "anything is possible" attitude while revamping the booth design from previous years.
The Outdoor Retailer Winter Market is North America's largest winter lifestyle and sports industry gathering. Each year, it attracts more than 22,500 attendees over the course of a four-day show and incorporates over 1,000 participating brands from the outdoor gear industry. Hill & Partners has assisted various brands for the show for the past 20 years, and it remains the company's largest tradeshow event.