Hill and Partners' team of branded environment specialists are proud to announce the company's 20th anniversary this fall.
For the past two decades, Hill & Partners has lead the professional design and trade show production industry by creating the most innovative, brand resonating, Branded Environment productions around the world for industry leaders including Polartec LLC, Dunkin' Brands, IGT, Demandware, Samsonite and General Cigar.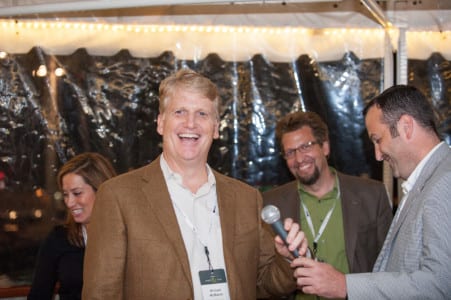 Launched in 1995, working as a team of just a few out of a small office in Quincy, MA, Hill & Partners has blossomed into a nationwide network with headquarters in Weymouth, MA. Hill & Partners has been recognized as not only one of the industry's premier performers, but continually gains recognition as one of the fastest-growing small businesses in the nation earning the prestigious titles of Inc. 5000 Fastest-Growing Private Company of the Year on three separate occasions; Boston Business Journal PaceSetter and US Chamber of Commerce Small Business Award Winner.
"Out of all these years, I am most proud of what I have learned from the great people I have met throughout the journey," said Hill & Partners President, Michael McMahon. "I genuinely appreciate each person for their influences, both in the past and present, and I intend to continue my support and gratitude for whatever the future may bring."
Coinciding with the company's 20th anniversary, Hill & Partners Vice President of Accounts, Matt Johnson, was very recently elected as new President of the Exhibit Designer and Producers Association (EDPA) Northeast Chapter, an organization dedicated to the collaboration and betterment of the top minds in the industry. In addition to Johnson's election, numerous other Hill & Partners employees have been recognized for their top-shelf performance within the industry, headlined by Creative Director, Mark Holme's acknowledgment from the national chapter of the EDPA as Designer of the Year in 2014.
Hill & Partners has worked on behalf of clients leading countless different industry sectors over its 20 year history. By the numbers, over the past 20 years Hill & Partners has:
Designed and displayed 3,851 trade show productions
Worked on behalf of 665 clients around the world
Exhibited 1.7 million square feet of trade show floor space
Won over 30 industry awards and honors