Hill & Partners won a Portable Modular Award for its rental branded environment designed on behalf of True Fit at 2015 Shop.org Summit.
It was recognized with the award from Exhibitor Magazine at the recent EXHIBITORLIVE Conference and Exhibition in Las Vegas. The magazine's Portable Modular Awards honor design excellence in portable, modular and system exhibits from the professional design and tradeshow industry's top companies.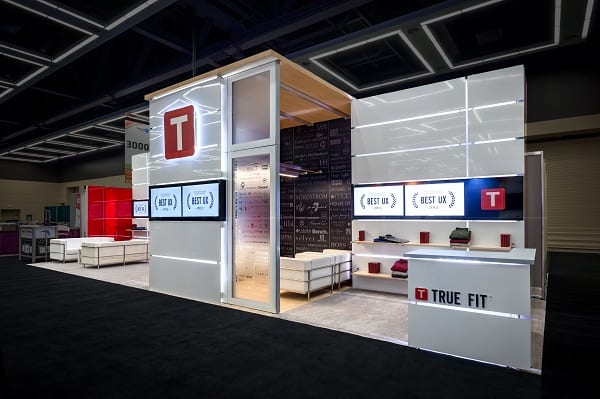 "The rental branded environment we designed for True Fit utilized our modular rental system and inventory in an innovative way to produce what may have been our most impactful linear exhibit to date," said Michael McMahon, president, Hill & Partners. "Our design team's challenge was to transform a 20' x 20' island booth space into an impactful 10' x 40' reconfigurable linear environment. Being recognized with a Portable Modular Award is outstanding justification that our team met that challenge and exceeded expectations."
True Fit desired a high-end tradeshow exhibit that would replicate the look of a modern and minimalistic apparel boutique, incorporating a semi-private meeting space, complete with embedded audio-visual elements.
Hill & Partners and True Fit collaborated on a 10' x 40' rental branded environment, integrating high-gloss white aluminum floating panels with hidden stand-offs to create a dimensional gridded shroud to minimize visibility of modular panel seams. Hill & Partners also used high-quality materials, such as red acrylic, etched glass with logos and gloss black laminate to accentuate the exhibit, and utilized additional concealed LED lighting to illuminate the gloss surfaces.
"To create an environment that establishes the presence and permanence of a boutique retail space, while maintaining the flexibility to be shipped, set, exhibited, dismantled, and shipped again, was a real challenge that took a great deal of collaboration and ingenuity to accomplish," said Mike Vallone, exhibit designer, Hill & Partners. "We also credit the True Fit team for their clear vision, bold spirit, and faith in our relationship, which played a huge role in winning this award."
In addition to winning a Portable Modular Award and its marked presence throughout the course of the exhibit portion of the conference, Hill & Partners sponsored the Exhibitor Party, hosted by Exhibit City News and Willwork at Light Nightclub at Mandalay Bay.
Hill & Partners' primary goal throughout EXHIBITORLIVE was to continue its strong presence as a leader in the professional tradeshow and design industry and to create meaningful relationships with industry peers and potential clients through face-to-face engagements.