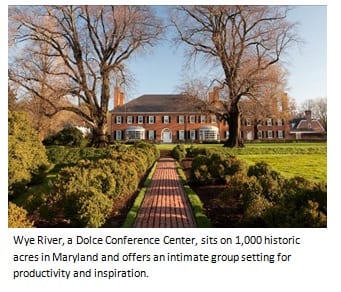 A historic venue for clandestine meetings becomes scenic beacon for creative group getaways
Wyndham Hotel Group, a giant with an unmatched global presence of nearly 8,000 hotels, fortifies its leading groups and meetings brand Dolce Hotels and Resorts with the addition of Wye River, a Dolce Conference Center, an exclusive group destination.
Nestled on 1,000 acres of private rolling countryside along Maryland's tranquil Wye River, Dolce's Wye River Conference Center is designed for intimate groups seeking shared experiences. Once the summer home of William Paca, first governor of Maryland and signatory on the Declaration of Independence, the center has a rich American history as a pasture herding Wye Angus cattle and later as a classified location for historic meetings including the 1998 Wye Accord for Peace in the Middle East.
Dolce Hotels and Resorts offers the best in meetings with creative spaces and trailblazing standards for meeting packages that redefined the industry. The Wye River Conference Center, developed in partnership with The Aspen Institute, is the ideal addition to the venerated meetings brand in a prime location outside of Washington D.C., one of the top 10 meetings destinations in the U.S. Home to two historic estates and 4,900 square feet of flexible meeting and event space, Dolce's Wye River Conference Center offers guests dedicated conference support, state-of-the-art amenities, farm-to-table cuisine and working space across the estate's striking landscape including 18th-century English gardens.
"Dolce hotels are designed to foster imaginative thinking with exquisitely distinct environments and one-of-a-kind shared experiences – and Wye River Conference Center is no exception," said Mark Kukulski, president, Wyndham Hotel Group Management. "This historic complex is tucked away from distraction advocating for the exchange of ideas and meaningful leadership, values at the core of both The Aspen Institute and Dolce Hotels and Resorts."
Wye River, a Dolce Conference Center, is the sister hotel to Dolce Aspen Meadows, also developed in partnership with The Aspen Institute. A trusted partner of Dolce, The Aspen Institute promotes creativity and provocative thinking as a means of sparking positive innovation. The hotel also joins several new additions to the Dolce Hotels and Resorts portfolio including Dolce Washington Dulles also outside of Washington, D.C., and The Summit, A Dolce Hotel, in Cincinnati, both scheduled to open by 2018.
Guests of Wye River benefit from Wyndham Hotel Group's go meet, the first formal rewards program of its kind catering to both professional and casual planners across every hotel segment. Planners who are members of the Wyndham Rewards loyalty program can earn one point for every dollar spent on qualifying revenue at participating hotels, regardless of billing method, with no minimum spend requirement and no maximum point limit. On average, meeting planners earn 45,000 points per meeting, enough for three free nights at any of Wyndham Hotel Group's more than 8,000 hotels around the world.
Wyndham Rewards is the simple-to-use, revolutionary loyalty program for Dolce Hotels and Resorts and Wyndham Hotel Group, offering members a generous points earning structure along with a flat, free-night redemption rate in more than 70 countries across the world.
Regularly outperforming competitors in guest and meeting planner satisfaction, Dolce's portfolio of upper-upscale hotels, resorts, conference centers and day meeting centers in North America and Europe offer 600,000 square feet of meeting space, host approximately 100,000 events and welcome four million meeting clients each year. Many properties are certified by the International Association of Conference Centers. Properties are distinct in design and feature freshly sourced culinary experiences and inspiring environments that bring people together for events.
All Dolce Hotels and Resorts properties are managed by an affiliate of Dolce International, Inc. Dolce Hotels and Resorts was acquired by Wyndham Hotel Group, LLC in 2015. Wyndham Hotel Group is the world's largest hotel company based on number of hotels, encompassing more than 8,000 hotels and over 697,600 rooms in 77 countries. Additional information is available at www.wyndhamworldwide.com.