by Ray Smith
A dark cloud looms over the US housing market; it formed last year and is growing darker with forecasts of home values dropping 25 percent in parts of the nation, climbing mortgage interest rates and a slowdown in new home construction.
Still, with valid trepidation, home builders and their reliant industries occupied more than 1 million square feet at the 2023 National Association of Home Builders IBS-KBIS tradeshow January 31 – February 2 at the Las Vegas Convention Center.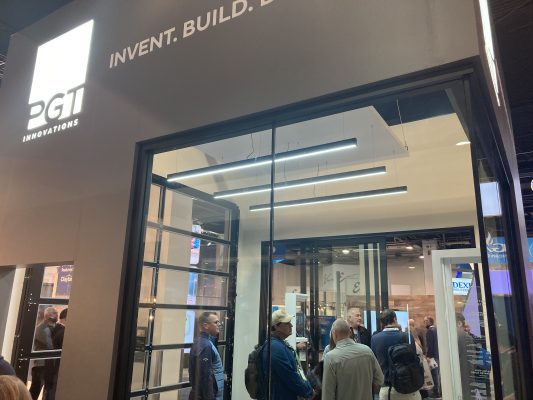 It's the 10th anniversary of co-locating the International Builders Show and Kitchen and Bath Industry Show as part of NAHB's Design and Construction Week. The show alternates between Las Vegas and Orlando, Florida, though it's coming to Las Vegas again in 2024 and 2025.
The National Hardware Show also co-located with Design and Construction Week in 2023, allowing more attendees to be introduced to new products and sow business opportunities on the exhibit floor.
"Attendees will get the full experience of networking, education, new products and much more," says Jerry Konter, NAHB chairman and home builder in Savannah, Georgia. "Being able to visit all three industry shows at one time, with one registration, is an incredible value and an experience not to be missed."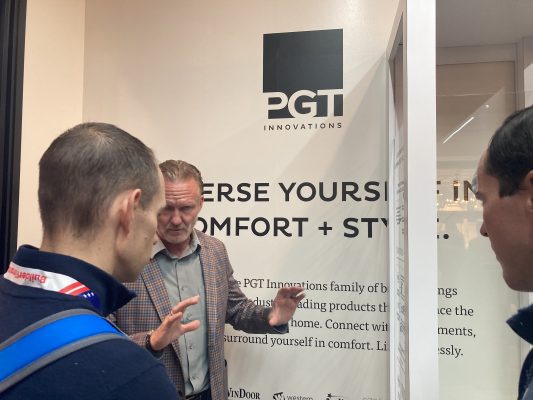 It was enough to lure PGT Innovations to venture west. The Florida-based manufacturer of high-impact windows and doors took 2,500 square feet of exhibit space in LVCC Central Hall, with a display built by Czarnowski that included Western Window Systems and Anlin Windows and Doors, two companies that PGT acquired in 2018 to expand business out West, says Senior Vice President Bob Keller. PGT generates $400 million to $500 million in revenue in the region, he adds.
Keller is confident the investment at IBS-KBIS in Las Vegas will pay dividends. "We look at the leads we get out of the show. We'll track through them and see opportunities," he says. "I know of two this morning, actual development projects that are going. We look at that as a starting point."
With about 2,000 exhibitors and nearly 110,000 attendance between the two shows, IBS-KBIS constitutes one of the largest light construction tradeshows in the world.
Mike Warter, marketing manager for Navien tankless water heaters, says his company had a good show last year at IBS in Orlando, but attendance was definitely down. He's going to the AHR Expo (International Air-Conditioning, Heating, Refrigeration Exposition) in Atlanta February 5-7, which was cancelled in 2021 due to COVID and came to Las Vegas in 2022, where attendance was down 40 percent.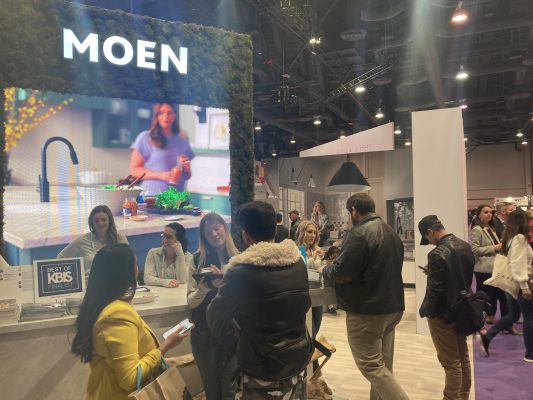 "This show so far has been fabulous," Warter says at the company's 50-foot-by-50-foot display booth, built by Absolute Exhibits, that's been reskinned with new laminate and a refreshed logo. "The amount of people in the booth … they love the product line, and they noticed the changes. So, we're definitely headed in the right direction."
Every new idea for the kitchen and bathroom was on display at KBIS in the North Hall. Wouldn't it be nice to set your feet on a pre-heated floor when you step out of the shower? Gold Heat makes electric heat mats that can be installed in 20 minutes.
Gabby Murrow demonstrated Gerber's new plumbing products at a kitchen display featuring running water at the company's 2,500-square-foot booth, built by CEP Exhibits with a double-decker meeting room. Gerber brought about 60 employees to Las Vegas to celebrate its 90th anniversary with "spirit events" for customers and buyers.
At the 8,100-square-foot exhibit for Moen and House of Roel, the brand narrative is expressed through vignettes that showcase a new kitchen faucet collection combining Scandinavian simplified design with Japanese textures and natural elements to create a soft, modern flair.
"The vignettes all tell our brand story," says Jason Fisher, senior director of marketing. "Water designs our life, but who designs for water?"
It took months for Deckel & Moneypenny, collaborating with Derse Exhibits, to design and build Moen's booth for KBIS. They'll be starting on next year's booth in April, Fisher says. It's a platform to launch new products and talk to Moen's customers, which include retail giants Home Depot and Lowe's.
Overall, Fisher says he felt a positive vibe on the tradeshow floor. He witnessed a strong turnout on the first day, and the crowd appeared to be larger than past years.
"I like this venue better," Fisher says of the expansive Las Vegas Convention Center. "It's easier to get around. The halls are much better. The halls in Orlando are harder to navigate."
However, LVCC aisles were not so wide that Warter was completely devoid of concern about Navien's booth being damaged by passing forklifts, which came dangerously close to the structure during move-in and installation, compelling Warter to place crates on the corners to protect the carpet.
"Our location was a little too close to where they're pulling items in," Warter says. "All shows have glitches. You're missing something, something has to be sent out. That's typical for a show of this size."
The National Hardware Show had more than 600 exhibitors, about half of them new to the show, and 6,000-plus attendees, 31 percent of whom were first-time registrants.
Cornerstone Building Brands, manufacturer of exterior and roofing products, had not exhibited at NHS since 2019, and took this year as an opportunity to design a completely new booth, says Susan Selle, chief marketing officer for the Cary, N.C.-based company.
Built by Hamilton Exhibits, the 8,000-square-foot booth is designed in modular form, with lowered and condensed displays that are more functional for smaller shows such as the International Roofing Expo coming to Dallas in March. It's Hamilton's first build for Cornerstone Building.
"You've got to find the right partner," Selle says. "They understood what we wanted to accomplish. They made it easy to network and showcase our products."
In addition to the must-see products and exhibits, IBS-KBIS also offers an up-to-date, innovative education program with more than 100 breakout sessions taught by building industry experts from across the country. Topics range from sales and marketing to construction and codes, from sustainable building materials to latest industry trends.