Skills Lead to Entrepreneurship
by Jeanne Brei
With the news that SEMA and CES were forced to go virtual-only and that there may be a full year or more before tradeshows and live events will be allowed to be held in-person again, many companies and vendors have decided to go from furloughing employees to closing their businesses  indefinitely—or at least until the events world starts turning again.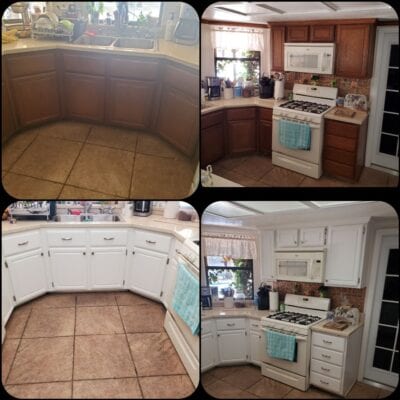 One local Teamster journeyman starting doing home renovations on his own home and posting the results on Facebook. This lead to being asked to paint others' homes, remodel their kitchens and build doggy doors for them. He started becoming so busy that he posted: "Okay 631 Teamsters: Sound off if you have a skill. There is far too much work out here to be sitting around. Quiet mouths don't get fed. Or if you know someone with a skill who is in need of a little something extra let's post it here. Come on, let's work together. Everyone could use a hand right now. Let's go!!"
That post received 180 replies within hours, many from the serious and interested who posted skills, including:
Mechanic
Cleaning and detailing cars, trucks, SUVs, ATVs, boats
Custom carpentry, closets, built-ins, custom furniture
Carpentry, plumbing, tile, marble, granite, flooring, some electrical
Graphic/Vinyl installs, car wraps, window perf etc
Pest control
All kinds of appliance repair and some drywall, painting. I was actually a hotel handy man before being a Teamster.
A/C work
Rustic farmhouse floating shelves
Building solar screens
Digital marketing
And then a few from the not-so-serious and silly:
I'm pretty good at telling people what to do
I can drive the hell out of an electric cart…
I'm good at dealing with idiots, does that count?
Teamsters have been re-inventing themselves over the past few months and discovering that becoming entrepreneurs is helping them get through these difficult and challenging times.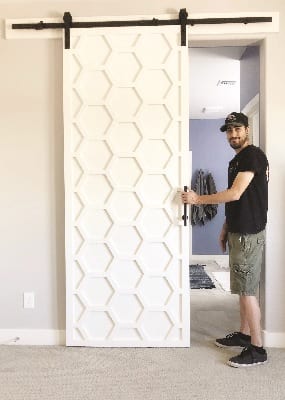 One proud father, John Jouas, president at Inside Dimension Services, says, "I have two boys, Justin and Geoff, who followed me into the tradeshow business when I started my own I&D company 17 years ago. We were chugging right along until March when the bottom dropped out. Justin (pictured right) designed and built his first door (the white hexagon style) for his own house back in May, posted pictures on his neighborhood NextDoor page and orders immediately started rolling in. This all happened organically. His wife, April, came up with the concept for their master BR/bath doorway. Once the neighbors saw the pictures online, people started tracking Justin down, including a well-known realtor in the area. Things have just taken off from there. Justin is crushing this new door business and his brother Geoff has been helping (mostly with the installations) but he's more focused on homeschooling his first grader and pre-K boys right now."
"There are a lot of guys I know in our industry," he adds, "that have switched gears to make ends meet until the Earth gets back on its axis."
This story originally appeared in the Sept./Oct. issue of Exhibit City News, p. 36. For original layout, visit https://issuu.com/exhibitcitynews/docs/ecn_sept-oct_2020