(Pictured above: The Cape Town Convention Center in Cape Town, South Africa to house Africa's largest provisional COVID-19 hospital)
Since the beginning of the year, the current global pandemic has dealt a significant amount of collateral damage to the worldwide event industry. Exhibition and event companies stymied by the suspension and cancellation of events face unprecedented financial challenges. While authorities in parts of the world are allowing exhibitions and business event to be held again provided that certain conditions are met and protective measures adopted, thousands of live event companies continue to experience serious financial collapses, mass layoffs and insolvencies.

In the spirit of "Exit not Exitus" the International Federation of Exhibition and Event Services took inspiration from the American initiative "LiveForLife" a Live-Event Industry COVID-19 coalition, and created "IFES 4 Life" a coalition of exhibition industry partners fighting COVID-19.
IFES 4 Life consists of live communication experts who offer their skills and knowledge in bridging bottlenecks in the fight against COVID-19. Whether it's construction of a hospital alternative on short notice or supporting health authorities with rapid installation of temporary negative pressure structures, IFES 4 Life partners answer the call.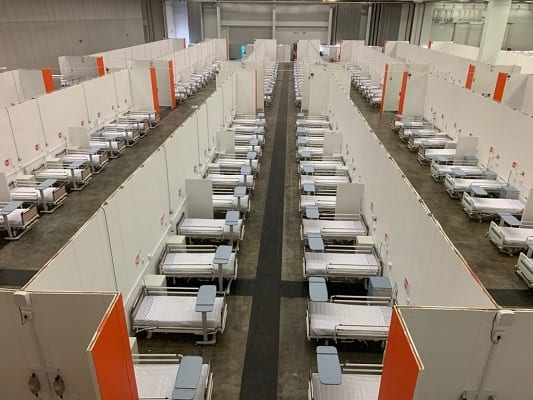 IFES member and IFES 4 Life partner, Scan Display, is designing and building Africa's largest provisional COVID-19 hospital at the Cape Town Convention Center in Cape Town, South Africa. The South African trade fair construction and event company was commissioned by the Western Cape Department of Health to convert four exhibition halls of the Convention Center into a temporary alternative to a hospital (pictured right).
"Even though we've never built anything like this before, it was encouraging and felt good to just go back to work and support the fight against the virus," says  and managing director of Scan Display.
For the current status of reopening markets, visit www.ufi.org the offical site of UFI: The Global Association of the Exhibition Industry.

The LiveForLife coalition is a collection of expertise from across the live events industry—all focused on solutions to get the  economy rolling again. "Our expertise is the rapid development, just-in-time delivery and management of temporary structures. It's what we do every day. We also offer crowd management, registration, shipping/logistics, general contracting, security, resource training/staffing, PPE and many other services. Our experience designers understand traffic flow and space planning. Our teams are available to coordinate logistics and manage projects. And our labor crews are ready to get back to work." For more info, visit www.liveforlifec19.com. 
IFES for Life is a worldwide partnership of exhibition service providers to support the fight against COVID-19. This service is an offer to the global exhibition + event community and partner status is 100 percent free of charge. For more info, visit www.ifes4life.com
IFES is the International Federation of Exhibition and Event Services. It is the international association of national associations and companies that are active in the fields of design, conception, production and services for exhibitions, trade fairs and events. IFES offers a platform for international cooperation achieved through networking and knowledge exchange. Founded in 1984, on the initiative of national associations in Belgium, Denmark, France, Germany, Italy, the Netherlands, Great Britain and the USA, IFES celebrated its 35th anniversary in 2019. The association is registered in Brussels under Belgian law. The "global collaboration network" briefly describes IFES. But to understand what IFES is, you have to go deeper into the details. IFES represents more than 280 companies from all over the world. Each of these companies has signed the IFES Code of Conduct—a kind of constitution that regulates the cooperation within the entire network. So when an IFES partner serves the customer of another member, both the customer and the member know that they are being professionally advised and supplied by a company that meets the highest quality standards. This is a member benefit with priceless added value. In order to increase the number of partnerships within the IFES family, the association offers several opportunities for "getting to know each other." The most prominent one is the IFES Summit, which takes place every year in June. "Summit of Inspiration" was the theme for 2019, when IFES met in the Greek capital Athens. "Winds of Change" will be the motto for the upcoming Summit, June 23-25, 2021, Amsterdam. The second largest opportunity is the IFES Global Village, which premiered at EuroShop in Düsseldorf in 2017 and continued at EXHIBITORLIVE in Las Vegas and now commutes between the Rhineland and the Nevada desert. Two educational programs offered by IFES—Masterclass and Certified Expert ensure that we have well-trained, globally-minded employees at the service of our industry. Sharing knowledge is the foundation of our association. For more info, visit ifesnet.org