While U.S. Customs and Border Protection (CBP) officers will be available at IMEX America this October to interview applicants for CBP's Global Entry program, U.S. attendees and exhibitors can also pre-apply for enrollment interviews for Transportation Security Administration's (TSA) PreCheck program.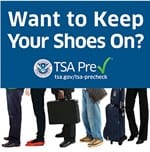 Both programs deliver a range of benefits to approved travelers. They include shorter lines and reduced screening procedures, which help to speed up travel through airports.
"We're always looking for fresh ways to add convenience and extra business value to industry professionals' experience of IMEX America in Las Vegas. Simply by offering the U.S. Global Entry and TSA interviews during the show, we're going to save some of our exhibitors and attendees valuable time when they next travel within the U.S. or further afield. Given that this is an appointment-led show, the concept of pre-booking the interview also fits nicely with the way we operate," said Carina Bauer, CEO, IMEX Group.
Global Entry allows expedited clearance for pre-approved, low-risk travelers upon arrival in the U.S. Though intended for frequent international travelers, there is no minimum number of trips necessary to qualify for the program.  Participants may enter the U.S. by using automated kiosks located at select airports. Global Entry is currently available at 34 U.S. airports as well as eight preclearance airports in Canada, and two preclearance sites in Ireland. Global Entry is open to U.S. citizens, lawful permanent residents as well as Dutch and South Korean citizens and Mexican nationals.
Designed to be quick and efficient, Global Entry also provides added security for international travelers. Application fees apply.
TSA PreCheck interview option
IMEX America visitors who are U.S. citizens or lawful permanent residents can also choose to apply for the approved TSA Pre Program before the show opens in Las Vegas at the Sands Expo Center.
Applicants must complete an online form before the show and bring required documentation along with them once their in-person interview is confirmed.
TSA PreCheck is one of four DHS Trusted Traveler programs and is available at 119 airports across North America. It also allows travelers flying on one of 11 participating airlines an enhanced security screening process, which saves passengers from having to remove shoes, light outerwear, belt, laptops or compliant liquids from their carry-on luggage.
Pre-Show preparation required
Pre-registration for these services during IMEX America is critical as all interviews must be confirmed in advance of the show. The Global Entry pre-registration deadline is Sept. 8.
Application procedures, documentation, respective fees and interview booking details are explained in more detail at http://www.imexamerica.com/show-info/tsa-precheck/ or http://www.imexamerica.com/show-info/global-entry-program/.