Visitors to IMEX in Frankfurt 2015 once again have the opportunity to support the host city community by taking part in a special charity cooking event.
Taking place on Monday May 18, the day before IMEX opens, volunteers can donate a few hours of their time to cook a lunch for the residents of the "Haus Lichtblick" shelter.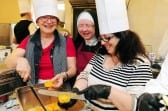 A non-profit organization run by Sister Sigrid Ehrlich, the shelter has been extended to accommodate over 50 people. For over 25 years, Sister Sigrid has devoted her life to helping the poorest and most helpless people in society and has succeeded in helping more than 300 people to move onto an independent life by providing assistance in the search for their own housing as well as their reintegration back into their families.
Sheraton Frankfurt Congress Hotel will partner with IMEX for the charity cooking event, sponsoring the fresh ingredients for the lunch and providing their executive chef to oversee the cooking, plus a staff team. Volunteers will join the chef and Sheraton team to both make and serve the lunch to the homeless, followed by enjoying lunch all together.
The event takes place from 11:00-14:00 on May 18. For those interested in getting involved, contact Sarah Skavron at cooking@imexexhibitions.com. Note spaces are limited to 20 and will be allocated on a first-come, first-served basis.
The "Haus Lichtblick" shelter is also one of the charities supported by IMEX's Badge Back scheme. At the end of each show, attendees are asked to vote for one of IMEX's legacy charities by depositing their show badge in the collection box for their preferred charity. All badges received are recycled and a financial donation made to all charities, the charity with the most badges receiving a greater donation. The donation to "Haus Lichtblick" last year was used to host the residents on a boat trip on the Rhine.