April 27, 1966 – July 25, 2022
Rodney, 56, worked in the trade show industry for many years with his parents, brother and many friends. As a  member of Local 491 Carpenters Union and the Decorators Union Local 756, he was known across the country and the industry as a trusted and skilled rigger. According to his friends, he was not known for being on time or answering his phone. But he was rich with friends from all over the country who he would see in his work travels. He took beautiful photographs of the scenery in his travels and bought A LOT of Harley Davidson t-shirts. He tried to get one from every city he visited.
Born in Hackensack, New Jersey, his family later relocated to Dallas. When he was first introduced to sports in Texas, he was a stand-out in football and track and field. The friendships he made playing sports still last to this day. He was known to be the tough guy in Duncanville High School.
Paulette and her son Michael came into Rodney's life in 1988 and made him a father. Rodney's pride in being Michael's father could only be overshadowed by his love of being "Papa Rod" to his five grandchildren. Whenever Rodney was not traveling, he could often be found watching the grandkid's sporting events. His grandchildren were the light of his life.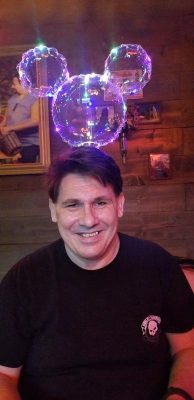 Rodney loved his family. He was the big brother, proud uncle and great uncle. He "came with jokes" and a smile on his face. He had a positive attitude and a kind heart. He was an animal lover, and animals seemed to love his gentle spirit and gravitate to him. He was most happy when he was trying to make someone else happy by giving or helping. He loved to decorate for Halloween and Christmas – the bigger, the better.
As Rodney would say, "Who would have thought……." Paulette and he decided to be each others forever in 2019. He wanted Paulette to have whatever she wanted to make her happy. Their love story is long and winding, and they had big laughs together and big plans for their forever future together. Rodney passed away peacefully with his forever Paulette by his side.
He is survived by his wife Paulette Deatherage; his son Michael Deatherage (Leslie); his grandchildren: David, Riley, Larry, Chris, and Sammy Deatherage; his three sisters: Renee Underwood, Melissa Killebrew (Keith), Stacy Maiden (Chris); his brother Greg Henke (Melanie); his brothers- & sisters-in-law Steve and Kelley Karnes and Larry and Shelley Karnes; his nieces and nephews, Lauren Sellers (Evan) and their son Ben; Aubreyanna Underwood, Kyle Underwood (Bryttne), Alicia Maiden (Zach), Brianna Maiden and her son Jace, Brandon Maiden and Keegan Killebrew, Shayla Karnes (Kole), Emily Sparks, Tanner Sparks, Harli Karnes, Luke Gunter; his mother Mary Windle (Garry); his dog Penny, many loving friends and a large extended family of people he loved.
Services were held July 31 at Wade Funeral Home in Arlington, TX. In lieu of flowers, his friends are asking for donations to Rodney's Go Fund Me site to help the family. https://gofund.me/d43ca37b .
To send condolences or share a memory, visit his online guestbook at https://wadefamilyfuneralhome.com/obits/rodney-henke/ or  https://www.legacy.com/us/obituaries/name/rodney-henke-obituary?id=36026530