(Pictured L-R: Samanta with Dalene Threeton)
April 21, 1971 – May 26, 2020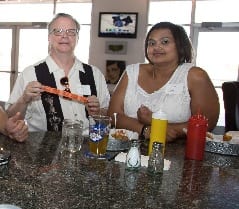 Former Exhibit City News office administrator, Samanta Arjune (pictured right with our late editor Arthur Bloberger), passed away on May 26 from complications related to the Route 91 Harvest Festival shooting. She has been in and out of the hospital since she suffered a gunshot wound in the leg during the tragedy on October 1, 2017.
Dalene Threeton, EDPA Las Vegas chapter executive board member, wrote on Facebook that "she and I bonded over country music, Don Svehla stories and elephants. A perfect friendship—we could go weeks and not speak and pick right back up where we left off."
Her services will be May 31 at 3 p.m. at Palm Northwest Mortuary, 6701 N Jones Blvd; viewing will be at 1 p.m. To leave a memory in her online guestbook, visit https://www.everhere.com/us/obituaries/nv/las-vegas/samanta-sabita-arjune-10925086.