A past president of the Denver Metro Convention & Visitors Bureau (VISIT DENVER) Roger A. Smith, 73, passed away on Nov. 1 after battling Alzheimer's for 10 years. He was pivotal in approving and designing the Colorado Convention Center.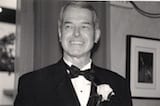 During his tenure from 1984 to 1993, Smith tripled the Bureau's budget and increased the staff by nearly 50 percent. He established a new tourism department, conducted Denver's first tourism marketing campaign, created an upscale tourism visitors guide and the first Denver tourism videos and started a volunteer program that saw more than 150 volunteers work at the city's information centers.
"It would be impossible to overstate what he has done in making our bureau one of the most professional and respected in the industry," said Joy Burns, the 1993 chair, Denver Metro CVB.
On the convention side, under Smith's tenure, Denver more than doubled future convention bookings. He opened convention sales offices in Washington, D.C. and Chicago; started a telemarketing department and brought major conventions to the city, including World Youth Day with the pope's visit; and the U.S. Travel Association's International Pow Wow (IPW), the largest gathering of international tour operators in the U.S.
Current VISIT DENVER President and CEO Richard Scharf worked under Smith at the Bureau as a convention sales manager from 1985 to 1988.
"Roger brought Denver into the modern era as a convention and tourism destination. Much of the $3.6 billion spent in Denver last year by tourists and convention delegates can be traced back to innovations and programs that Roger started. He was the consummate sales leader and knew every customer by first name and put Denver on the map for conventions," Scharf said.
Smith was perhaps best known for his diligent efforts to build a new convention center. When he came to Denver in March 1984, the city's convention efforts were struggling because the meetings market had outgrown the 100,000 square feet of space available at Currigan Hall. Smith lobbied city leaders and brought in a series of convention experts from around the country to make the argument for a new convention center.
When the center was finally approved, Smith worked with architects Curt Fentress and James Bradburn and created a series of meetings in Washington, D.C., Chicago, New York and Denver, where the architects could receive first-hand advice from meeting planners on practical ideas that would make a new convention center more efficient. It was the first time any city had brought together meeting planners and convention center architects at the design phase. This advice led to many first-time features being incorporated into the Colorado Convention Center, which is still hailed as one of the most practical and user-friendly centers ever built and was recently ranked as one of the top five convention centers in the nation by a survey of meeting planners.
Smith came to Denver from the Philadelphia Convention & Visitors Bureau, where for four years he was vice president of convention marketing. Prior to that, he worked for more than 16 years as a regional director of sales for Sonesta International Hotels and Westin Hotels. He spent the last 10 years of his career as CEO of the Pasadena Civic Center Operating Co.
He retired to the Tucson, Ariz. area in 2006 and moved back to Denver in 2012 with his wife, Cathy, to be near their son, Evan, who works for VISIT DENVER as an ad sales executive. Smith was a native of Auburn, N.Y. and graduated from Florida State University.
He is survived by his wife of 46 years; son; and daughter-in-law, Katie; grandchildren, Owen and Bennett; and two brothers, Charles Smith and Steve Downing.
A memorial service will be held Nov. 13 at 2:00 p.m. at Hope United Methodist Church in Greenwood Village, Colo.
The family requests that in lieu of flowers donations be made to the Alzheimer's Association at http://act.alz.org/goto/Roger_A_Smith.
Thoughts on about Smith can be shared on this Facebook page: https://www.facebook.com/MemoriesofRogerSmith.