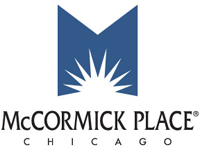 Illinois Governor Pat Quinn and Chicago Mayor Richard M. Daley appointed a new seven-member Interim Board for the Metropolitan Pier and Exposition Authority (MPEA), the agency that owns and operates McCormick Place and Navy Pier in Chicago, on March 19. Daley's choices included the reappointment of John S. Gates, Jr. as chair.


"I look forward to working with the interim board to continue identifying and implementing needed changes at McCormick Place and in the convention industry as a whole in Chicago," said Juan A. Ochoa, MPEA chief executive officer. "The naming of these members to the MPEA Interim Board is an important step on the path to fundamental reform in Chicago's convention industry. I look forward to supporting the work of the board as it studies the role of all stakeholders and recommends what needs to be done to keep Chicago the preeminent destination for conventions and tradeshows."
Conventions and tradeshows at McCormick Place are a vital economic resource for the city of Chicago and state of Illinois, generating more than 65,000 jobs and $8 billion in economic impact for the state.
Quinn signed Senate Bill 1868 (Public Act 0960882), which ended the terms of the current 13-member board 30 days after the bill was signed into law. The new seven-member
Interim Board will serve until the Illinois General Assembly establishes a new permanent board.
Along with Gates, Daley appointed André Rice, president of Muller and Monroe Asset Management; Bruce V. Rauner, chairman of the GTCR Golder Rauner, a venture capital and private equity firm; and Sheila O'Grady, president of the Illinois Restaurant Association, a nonprofit trade association representing the industry.
Quinn appointed Devon Bruce, an attorney at Power, Rogers and Smith P.C.; Anita Cummings, founder of the independent consulting firm A.M. Consulting, which specializes in professional management assistance, and executive director of the United Business Association of Midway; and Peter O'Brien, vice president and chief operating officer of MADO Management, LP and board member of the MPEA.
Those interested in the MPEA can visit the Web site at www.mpea.com