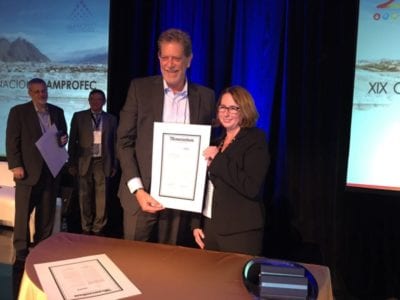 The International Association of Exhibitions and Events, the Society of Independent Show Organizers, and the Global Association of the Exhibition Industry (UFI) have each signed an agreement with AMPROFEC, the exhibitions and events industry trade association in Mexico, to make the global exhibitions environment a more tightly knit place to do business.
The agreements extend offerings between organizations to benefit members of both in the interest of advancing the exhibitions and events industry in their respective regions. IAEE officials say the agreement merely cements a relationship that has already been developing in recent years. "IAEE and AMPROFEC have engaged in various successful collaborations in the past," said IAEE executive vice president and chief operating officer, Cathy Breden. "We look forward to building a positive relationship with our colleagues in Mexico and collaborating on projects of importance to both our memberships."
"I am pleased IAEE is able to work with our colleagues in Mexico on initiatives supporting the exhibitions industry," said IAEE president and CEO David DuBois "Mexico has a vibrant and successful marketplace and this collaboration will surely benefit our members, both locally and globally."
AMPROFEC (Asociación Mexicana de Profesionales de Ferias, Exposiciones y Convenciones, A.C.) is the association in Mexico primarily responsible for protecting and advancing businesses involved in the trade show industry. It also collaborates with other entities, both in Mexico and internationally, to build support for the exhibition marketplace across the country.