The 11th Annual MOD Awards once again honored the best of modular exhibit design in front of a packed house at the Four Season Hotel in Mandalay Bay on March 29.


Along with a panel of design industry judges, more than 300 exhibit and event industry professionals took part in selecting the winners and presenting each company with a crystal MOD Award.
Finalists for each category were pre-selected by the Editors of Exhibit City News and the panel of judges, which included Derek Gentile, president and CEO of EEI Global, Russ Fowler, head of design for Derse, and Gino Pellegrini, president and founder of Inter-Global Exhibits.
At the event, the three judges critiqued the two finalists for each category before the audience voted for the winner via the Talkback audience response system.
Hosted by Shelly Justice of Convention Models and Talent Agency, this year's MOD Awards crowned MG Design Associates, with its entry for Riverain Medical, as the Best of MOD Award winner. Voting for the Best of MOD award was done live at the event, with the crowd selecting the overall design champion.
MG Design Associates received an Apple iPad in addition to the Best of MOD trophy.
"It was an honor to be chosen by our industry peers to win the esteemed award of Best of MOD at such a prestigious event as the MOD Awards, hosted by Abex and Exhibit City News," said Rob Majerowski, VP of creative for MG Design Associates. "On behalf of our creative team and our client, Riverain, we really appreciate the comments made by the panel of judges about the project. They really understood our objectives and spoke favorably about the strategy we took to achieve our goals."
2011 MOD Awards Winners
Best of MOD, Best extrusion-based design
Project- RSNA 2010
Client – Riverain Medical
Design/ Fabrication – MG Design Associates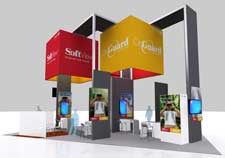 Riverain Medical introduced a new exhibit at RSNA 2010 that emphasized the company's newest product combination, InUnison. MG Design created a high-tech experience around an African safari theme designed to reinforce the company's message.
Riverain Medical's 12-person theater presentation was visible and audible from the RSNA lunch area, which helped amp up overall impressions. Attendees used 46-inch vertically hung touchscreens to detect animals hidden within safari images, an analogy for how Riverain products help uncover hidden cancers.
By keeping the exhibit modular, it will be easy to grow this exhibit configuration in the future after this year's success.
Best 10 x 20 design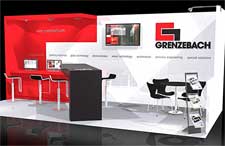 Project- Rockwell Automation Fair
Client – Grenzebach
Design/ Fabrication – International Expo Consulting
Grenzebach's participation at the Rockwell Automation Fair in November 2010 was conceptualized to strengthen the relationship between brand name, the company's leadership role and expertise within a variety of process solution disciplines.
To achieve this concept, the design of the 10-foot by 20-foot exhibit featured structural elements planned for storage and open-conference purposes.
In contrast to the substantial presence of the brand mark, which featured an oversized 'G' above the entrance to the space, Grenzebach's diverse industry affiliations were represented in an understated, light gray text band, which corresponded to various touch-screen panels, allowing the company representatives to elaborate on Grenzebach's innovative competence and know-how.
Best 20 x 20 +
Project: HIMSS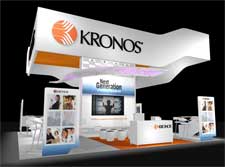 Client – Kronos
Design/ Fabrication – Sacks Exhibits
Kronos is the global leader in workforce management solutions across many different sectors. The exhibit needed to be monumental to reflect Kronos' position within the industry, be versatile enough to change static and multimedia messaging, and powerful enough to communicate big ideas in a simple way.
The solution was to create an organic destination on the show floor through the integration of tension fabric, aluminum, lighting and touchscreen programs. The 360 degree environment involved a multilayered ceiling, which enveloped the attendee in the warm embrace of Kronos and the clean efficiency in the design of the work stations.
Best fabric-anchored design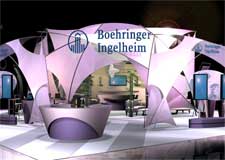 Project- FSD Booth American College of OB & Gynecology
Client – Boehringer Ingelheim
Design/ Fabrication – Global Experience Specialists
The Female Sexual Dysfunction (FSD) exhibit was designed to be a 3D learning instrument that healthcare providers could use to increase their knowledge about FSD. Fabric-anchor design was used to symbolize the challenges females face when dealing with FSD, and multimedia devices captured definitions, prevalence, current treatments and the impact on the quality of life.
Curving frames symbolized the disjointed feeling a woman experiences with FSD. Intimacy and softness of a woman were represented with sweeping white tension fabric, and archways drew the attendees into a semi-enclosed lounge. The FSD exhibit project embraced the aspects of a woman, and by doing so, set the bar higher for all those that were part of it.
Best Green design
Project- Outdoor Retailer Winter Market 2011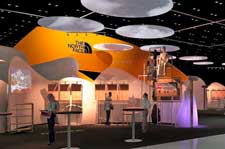 Client – The North Face
Design/ Fabrication – Transformit
The North Face asked Transformit to design a new exhibit for Outdoor Retailer 2011. The exhibit asserted The North Face's leadership in technical innovation and sustainability.
The Summit Bar, the central meeting point, is situated in the entry of the Half Dome Theater, where live presentations are made. Spiraling away from the bar are product displays. In each, a monitor and digital projector show motion graphics related to that area's products. Overhead are circular "clouds," where "lightening" is projected. At the perimeter are very large tent silhouettes.
Meeting rooms and product area dividers are lit by glacier-blue LEDs. Product displays pair stainless steel structural elements with reclaimed barn wood, much as The North Face's technical products coexist with a history of environmental stewardship.
Best custom exhibit
Project- Gitex 2010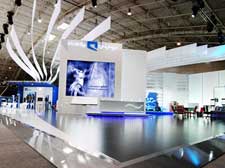 Client – Mobily
Design/ Fabrication – Interglobal Exhibits
To create a consistent approach among so many sub-brands within the Mobily exhibit, it was important to make the various areas flow from one to the other. A dark wenge wood floor was used with a mirror board that served as a strong and elegant visual anchor.
The ceiling anchored the entire 15,000 square-foot showplace and represented moving information. The look created the highly technical feel that this telecom company wanted. Mobily hoped to reach each target audience by having many product lines in one exhibit space. Mobily not only wanted each attendee to have a memorable experience, but retain the name as well as the products.
Best portable design
Project- Cessna Corporate Event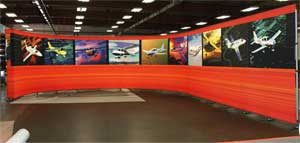 Client – Cessna
Design/ Fabrication – Triga
Cessna, the aircraft manufacturer, had a company-wide meeting and needed to line its meeting room with great graphics. They wanted a 100 plus foot-long display and TRIGA was the solution. We provided them with a 103-foot long TRIGA wall with different curves and waves and covered it with a seamless 103-foot long by 8-foot high fabric graphic.
Best 10 x 10 design
Client – Quorum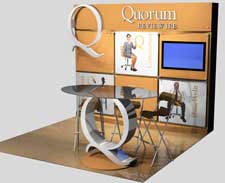 Design – Exhibit Design Consultants Inc.
Fabrication – Abex
The founders of Quorum Review IRB believed that an institutional review board did not have to sacrifice customer service to provide a thorough review. Quorum needed an intimate exhibit space to meet with current and prospective clients to discuss its new products. Corporate branding was also an important consideration for this 10-foot by 10-foot design. The unique-shaped 'Q' table helped clients recognize the space as a Quorum exhibit, which made them stand out on the show floor.