by Calanit Atia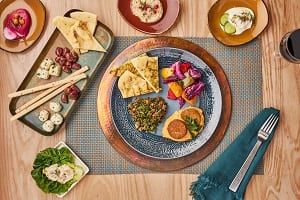 Las Vegas is known for its buffets all around the world. There was a time when people thought of buffets as a cheap way to eat while visiting Las Vegas. However, in the last decade, the high-end buffets have become gourmet restaurants. The quality of food and the selection can compete with any top-level restaurant in Las Vegas. (Pictured right, a diner's course of Mediterranean dishes at the Bacchanal Buffet.)
During the nearly year-long lockdown, most buffets closed—with the exception of the South Point Hotel & Casino which reopened its Garden Buffet on July 1, 2020, with reduced capacity and staff serving food, and, for a short while, the Cosmopolitan and the Wynn Hotel & Casino. Many hospitality experts predicted the end of self-serve buffets, especially on the Las Vegas Strip.
But there is great news. Buffets are slowly coming back! Prior to lockdowns, there were nearly 60 buffets in Las Vegas and, 15 months later, only a handful have reopened, including the South Point's Garden Buffet, MGM Grand Buffet, Circus Circus Buffet, Cosmospolitan's Wicked Spoon, Excalibur Buffet, the Wynn Buffet and the extraordinary Bacchanal Buffet at Caesars Palace.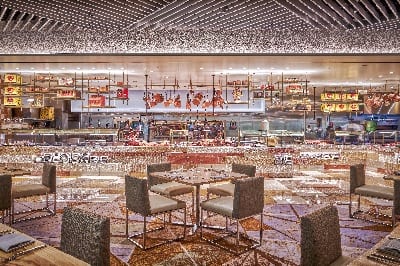 Named the No. 1 buffet in Las Vegas by USA Today, the Bacchanal Buffet at Caesars Palace redefines the buffet experience, and has offered exceptional dining since it opened in 2012.
Now, following more than a year of renovations, the award-winning buffet is showcasing a multimillion-dollar enhancement. Bacchanal's seafood stations, carving stations, American and Latin cuisine kitchens, as well as the entrance and dining room, have all received significant upgrades and improvements. In addition to an all-new look and feel, Bacchanal's menu has also been expanded with nearly 100 new dishes to the already impressive menu, including more than 100 vegan and vegetarian options. Additionally, the famed buffet has introduced reservations, making them available for the first time since its launch at OpenTable.com.
Bacchanal Buffet sets a new standard for Las Vegas buffets by redefining the buffet experience through elevated global cuisine made fresh daily by a team of specialized chefs who oversee the preparation of the food in nine open, interactive kitchens.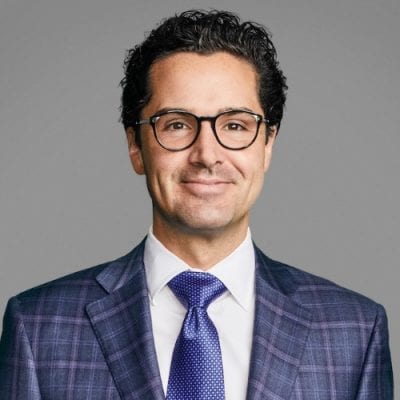 "After 14 months and a multimillion-dollar renovation, Bacchanal is back, and might I say the best just got better," says Sean McBurney (pictured right), regional president of Caesars Entertainment. "At Bacchanal, it has always been about the food, and that continues today, now more than ever. You're going to see hundreds of beautifully-curated, delectable dishes. I could talk for days about how spectacular this buffet is, but we're going to let the food do the talking."
Bacchanal is self-serve with all required sanitation protocols in place, including changing utensils every hour, somebody to actively watch guests at each station, sanitizer at each station, fresh plates and no eating while waiting in line. Reservations will continue to be required and can be made by visiting OpenTable.com.
For more info, visit https://www.caesars.com/caesars-palace/restaurants/bacchanal-buffet. For a buffet chart that's updated monthly, visit https://vegasfoodandfun.com/buffet-comparison-chart/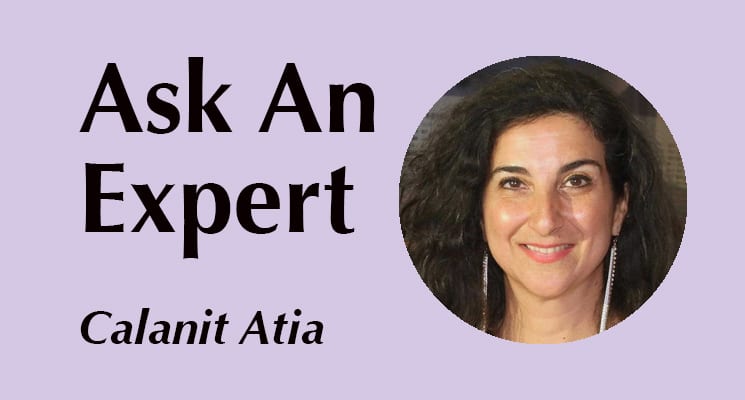 Calanit Atia is an award-winning event planner and entrepreneur. Air Force Veteran, founder and president of A to Z Events, Las Vegas DMC and Entertainment Agency, 2021 MPI Advisory Board Member and speaker. She can be contacted at (702) 212-2500 or Info@AtoZevents.com.
This story originally appeared in the July/August 2021 issue of Exhibit City News, p. 16. For original layout, visit https://issuu.com/exhibitcitynews/docs/ecn_july-august_2021