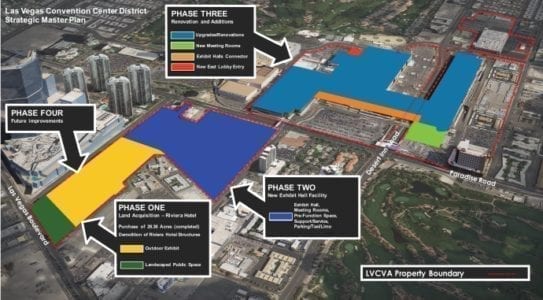 The Nevada legislature gave its blessing to a $1.4 billion plan that will add an estimated 1.4 million square feet to the Las Vegas Convention Center, including an additional 600,000 square feet of exhibition space, as well as lay the groundwork for the Global Business District that convention and visitor bureau authorities unveiled in 2013.
The plan also provides funds for renovation inside the 57-year-old venue, something officials said was critical to remain competitive in the trade show world. Refreshed exhibit halls, more food offerings, additional meeting rooms, and an enhanced grand lobby are among the improvements set to be made. The expanded campus will extend to the Las Vegas Strip, and the space is expected to eventually include a transportation hub, outdoor gathering space, and design elements that will create a cohesive theme throughout the LVCC footprint.
But for the moment, the updates and expansion will consist of work that officials say is essential to ward off competition from convention venues around the country that are trying to entice gatherings away from Las Vegas. Cornerstone shows like the International Consumer Electronics Show and the National Association of Broadcasters are filling the venue's current 2 million square feet to capacity, and organizers of each say that more space is necessary for the growth of their events.
Funds for the project will come from an increased hotel tax, and though the expansion plan has enjoyed wide approval, its fate in the legislature was uncertain as lawmakers had strategically tied it to a bill that would fund a new NFL stadium for Las Vegas as well. In the end, the bill narrowly received approval in a special session of the legislature and was signed within days by the governor, who was a strong advocate for both measures.
Tourism officials said the projects would create thousands of jobs and draw new events to Las Vegas, which would flood the local economy with new money. "It's all heads-in-beds and job creation," Las Vegas Convention and Visitors Authority head Rossi Ralenkotter said Monday, "but the fact that the convention center expansion is going to bring us more conventions, more people coming to town, economic impact, it's also going to bring all types of special events that we couldn't host before, and that also creates heads-in-beds."