For exhibitors looking to take their work outside of the United States borders, Latin America has plenty of convention centers to offer. Although the travelling might require a little more effort, moving a tradeshow to a convention center south of the border opens up the exhibiting process to a world of new possibilities.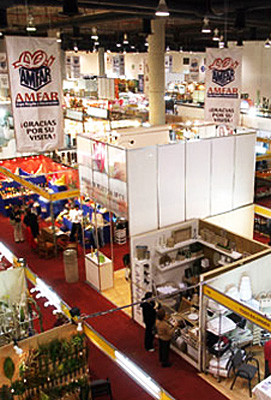 World Trade Center Mexico
Located in Mexico City, the World Trade Center Mexico features 52 floors of exhibition and meeting space. The World Trade Center complex includes a convention center, cultural center, parking structure, a multi-screen cinema, a revolving 45th-floor luxury restaurant and a shopping center.
The largest room in the WTC has a capacity to hold 10 to 600 booths. Throughout the facility are 21 halls, totaling 180,000 square feet of exhibit space.
The Convention Center also features wireless high-speed internet as well as multiple full-size restaurants and snack bars. Within just three miles of the WTC, there are 8,400 hotel rooms and a business center for basic needs and office supplies.
The center hosts about 130 exhibitions and tradeshows annually.
El Salvador's International Center for Fairs and Exhibitions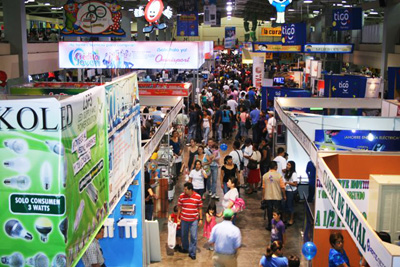 With a recent investment of $371,000 (USD) in reconstructing and updating air conditioning units, the International Center for Fairs and Exhibitions (CIFCO) in El Salvador has become a state-of-the-art event facility.
The center, which has seven meeting rooms, also houses a large amphitheatre with a capacity of 10,000 people. The central hall in the building can hold 8,900 people standing or 5,000 at round tables. There are several other meeting rooms in the Convention Center, perfect for gathering groups of 700 to 1,000 people.
Overall, the Center has over 18,000 square feet of useable event space. It is also located strategically close to hotels, shopping centers and restaurants. The Center focuses mainly on events for private organizers, unions, associations and government agencies.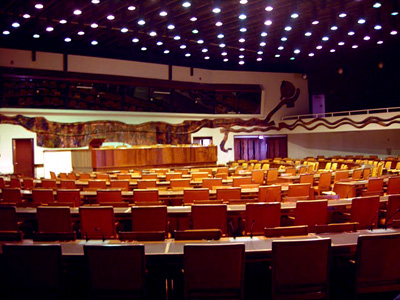 The Jamaica Conference Center
Located along the waterfront in the middle of downtown Kingston is the Jamaica Conference Center. Built in 1982 to United Nations' specifications, the Centre features five conference rooms, two cafeterias as well as a private dining and reception area.
On the second floor of the building is a 2,400 square foot Exhibition Hall with track lighting. This is adjacent to the main cafeteria, which can also hold groups as large as 250.
Two of the conference rooms open onto the Harbour Lounge, an area that looks out on the Kingston Harbour.
The Conference Centre provides an array of services to its guests, including translation and interpretation, audio-visual aid, secretarial assistance and sightseeing tours.
Puerto Rico Convention Center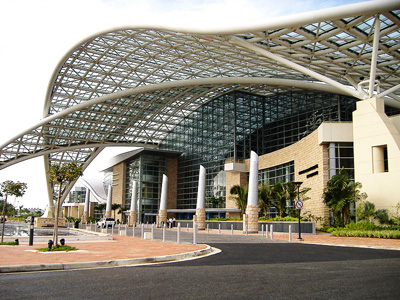 Located in the historic district of Miramar in San Juan, Puerto Rico is the Puerto Rico Convention Center (PRCC).
The PRCC was built in the mid-1990s on what used to be a U.S. Naval Base. The Center is able to accommodate groups as large as 25,000 on its total space of 580,000 square feet. As for total exhibit space, the venue has 152,700 square feet, which can be divided into three separate exhibit halls.
The PRCC was designed to be the most technologically friendly center in Latin America and can provide wireless Internet services. It can also provide in-house catering, security, concessions and cleaning services for all events.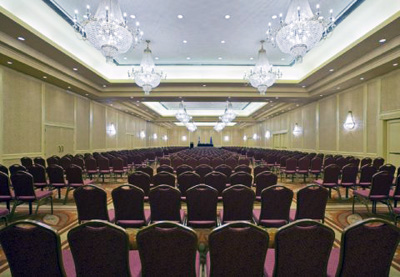 Sheraton Santiago Hotel & Convention Center
This meeting space is one of the few in Latin America that is attached to a full-scale hotel. The Sheraton Santiago Hotel & Convention Center has 15 different meeting spaces scattered throughout the property.
The Center is located in Stantiago, Chile, in the Providencia neighborhood and is attached to the San Cristobal Tower, providing extra meeting and convention space if needed.
However, the Center can provide 8,000 square feet of meeting space and can accommodate groups as large as 800 in one ballroom. The hotel itself has 380 guest rooms, allowing for attendees to stay after a long meeting.