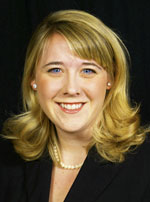 Laura Hughes Camic recently joined ConventionPlanit.com as regional director of sales. She will be responsible for the Midwest region within the United States and other select markets.


Camic brings strong marketing and sales experience to ConventionPlanit.com. She spent six years as national account manager for Pioneer Publishing, where she sold advertising for four statewide and two national publications, posting strong sales gains each year.
Earlier in her career Camic was assistant store manager for Coach, a well-known retail chain. Based in Lexington, Ky., she earned her Bachelor's degree in business administration with an emphasis in marketing from the University of Kentucky.
"Laura is an expert at finding ways to offer the maximum value to companies looking for exposure in publications and online directories," said Katherine Markham, CHME, co-founder of ConventionPlanit.com. "She will help many of our clients achieve the best visibility possible to meeting professionals."
Designed by meeting professionals as an efficient registration-free online search directory, ConventionPlanit.com is a popular Web site that quickly refines searches to identify suitable destinations, facilities and service providers. ConventionPlanit.com connects buyers with sellers and there are no commissions or third party fees. For more information, visit www.conventionplanit.com.