In a technology faceoff, some tradeshow exhibitors and attendees may wonder if traditional lead management equipment from rental companies or lead management mobile applications would come out on top.
"Lead management equipment still has a place in the tradeshow booth. In certain circumstances, these dedicated systems fill needs more efficiently than mobile applications depending on which specific application is used," said Kirk Saboda, director of sales and marketing, Tallen Technology Rentals. "Circumstances where using an application may be better than renting has to do with the functionality of what you want to accomplish."
Tallen offers rentals of traditional lead management equipment and iPads with pre-loaded lead management applications. The company also provides other technology and production services.
"When a mobile lead management application is used, many users may not have the expertise to use the device; however, the lead management dedicated system is as simple as point and scan," added Saboda.
Manish Gorawala, CEO and founder of MobileLeads LLC, said he believes mobile applications are rendering traditional lead management equipment obsolete. MobileLeads offers MLeads, a mobile application that allows users to connect, capture, contact and convert leads anywhere and at any time, according to Gorawala.
"Apps are getting better and technologically advanced; they completely eliminate the need to rent lead retrieval systems," said Gorawala. "The benefits [of apps] are convenience, low cost compared to proprietary systems and the ability to capture and manage information using QR Code scanning, card scanning and voice instantly."
The features of lead management applications vary for mobile devices and traditional rented systems, but the number of users expected at a tradeshow booth could help determine which system is best to use, according to Saboda.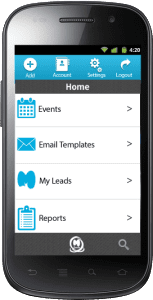 "If a booth expects a small-to-moderate amount of attendees and there is only one person capturing data, the two systems are equivalent," explained Saboda. "However, for larger booths where a lot of attendees are expected, the simplicity of a dedicated lead management system can be useful in streamlining the process. It may be easier for everyone in the booth to use."
Ease of use isn't automatically guaranteed with traditional or mobile lead management systems.
"The challenges for both systems are similar. Both require training, set up and configuration for each client's specific needs," said Saboda. "A lead management system contains fewer distractions than apps on mobile devices. iPad devices running the lead management app may allow distractions because there are many other uses for the device, which also makes it a likely target to be taken by accident or stolen."
Challenges unique to lead management mobile applications are usually associated with the logistics of a venue and show organizer policies.
"Using apps, sometimes you run into issues of unavailability of Internet or bad connections. However, with the availability of Internet during most events, it does not become a major issue," said Gorawala. "The adoption [of apps] would be faster if the show organizer decides to promote the use of apps, and we are working on convincing the event organizer to see the value and cost savings our platform provides. We explain all the features we offer and show how simple it is to use."
Also ensuring each technology has a place at tradeshows is that most traditional and mobile lead management systems have similar data capturing abilities. Ultimately, the decision of which system comes out on top is shown to be best left to the user.