Tweet

After end users experience the joys and educational offerings of a mobile exhibit, they often leave the tour stop without the behind-the-scenes knowledge of how the project began. Hitting the rewind button on the entire process, Legacy Transportation detailed how it began collaborating with companies that aimed to market their products or services on the open road.
Without going from tradeshow to tradeshow and having to wait for attendees to visit their booths, mobile exhibiting allows companies to reach out to prospects on their own terms.

"You're getting to see executives and the users of the equipment. With a mobile exhibit, there are no competitors around. You can reach decision makers and users of the equipment. While at a tradeshow, you don't reach everyone, and there are competitors around," said John Migliozzi, president, Legacy.
Agreeing with Migliozzi, Director of Marketing and Mobile Exhibits Beverly Dygert cited mobile environments as being valuable to a company's sales and marketing efforts.
"They offer that one-on-one customer experience. Whether it's people who need health screenings or someone to be taught, it's the whole experience of having them come to you rather than them finding you," she explained.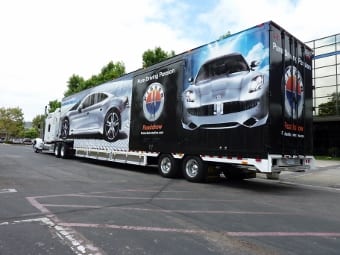 Operating out of its Silicon Valley, Calif., headquarters with facilities in Las Vegas, Chicago and Los Angeles, for over 20 years, Legacy's in-house team has created, designed and operated more than 40 unique mobile environments on behalf of its clients.
Vehicles ranging from small sprinter vans to 53-foot double expandable trailers are wrapped with impact-making graphics, according to Migliozzi, as well as outfitted with various materials, from fabricated walls and Corian countertops to carpet, laminate or wood flooring and even LED lighting.
"We turnkey the project 100 percent, from graphics and operations to logistics and fabrics," added Migliozzi.
Traveling exhibits are also equipped with state-of-the-art technology, such as large flat-panel monitors and audio-visual controlled by iPads.
"We want to make it exciting for clients' customers to come see the unit. We want to give them a great experience and great audio visual. When you walk in the mobile exhibit, you don't want to think you're in square box," said Migliozzi.
To avoid the shoe-box effect, the Legacy marketing and design teams collaborate with clients, discovering how the mobile environment will be used – as a classroom, a medical trailer, a demonstration area or to complement an event.
"Clients give us their ideas. We go back to our designers, and the designers create a conceptual drawing. This takes three weeks. We show that to them, and we tweak it with the client," he explained. "We build mobile exhibits from scratch. You're looking at eight months to build. If we take an existing trailer, it could be a four-month period."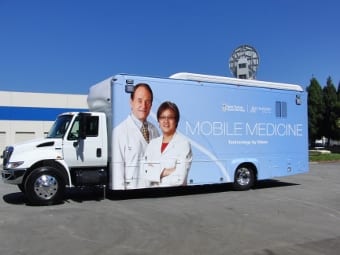 Once Legacy designs and builds the touring exhibit, its job isn't done. The company also assigns tour operators to each of these vehicles, and helps clients keep up their momentum on the road by revising graphics and other details throughout the lifespan of the project –this could become a more than decade long partnership.
"Many [mobile exhibits] last a year. Many last for three years. Some travel for 12 years," explained Dygert. "Not everyone runs their mobile exhibit so long. They do it when they still have products to show. Some of these data networking companies can make a $7 million deal at one stop. Those that do mobile exhibits can use them to create great customer experiences and gain revenue. The fact [that] they keep going shows they are successful."
Dygert experienced a successful mobile environment firsthand, having traveled for a short time as part of a group of seven on Lewis & Clark: The National Bicentennial Exhibition, a tour lasting four years.
"The tour highlighted Lewis and Clark's original expedition –what hardships they endured. It was interactive and was brought to life with pictures. The tour went to every village, every town and city. We participated with communities. Reenactment actors told stories and dressed up as people from the past. It was an interesting experience to tell this part of this history, keep it alive and educate kids," she explained.
Each stop of the Lewis & Clark traveling exhibit required two days of parking lot set up of air conditioning, tents and an auditorium for the gathering crowds following the tour dates. Many of Legacy's clients promote their mobile exhibits on specially created websites featuring maps indicating where it will travel next.
Legacy also works within the medical community through its trailers for health care clients. When it's not introducing equipment to busy doctors who find it hard to travel, it sets up clinics for health care screenings within vehicles. To stay compliant with Health Insurance Portability and Accountability Act (HIPPA) guidelines, these trailers are prepared with security measures in place to protect medical grade equipment, prescriptions and information, and they offer wheelchair access.