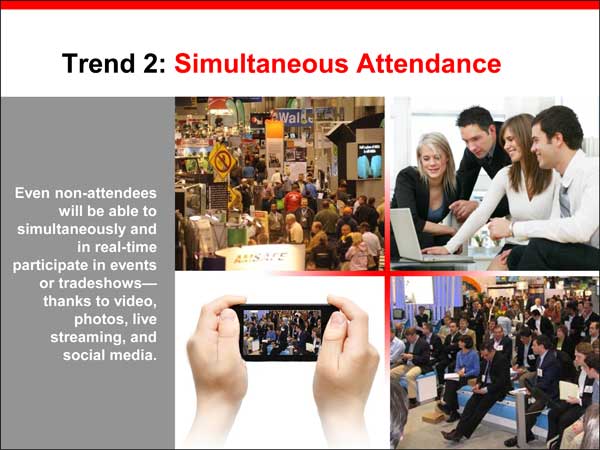 Live Marketing, an integrated engagement marketing agency for tradeshows and virtual events, is following up its EXHIBITOR2012 program by publishing its 2012 Trends Report. This report defines twelve trends predicted to have the biggest impact on tradeshows and events over the coming year.


"Our Trends Report is a quick-read summary of what we see impacting our industry," said Kristin Veach, VP of marketing for Live Marketing. "Event marketers can use it as a check-list to help ensure they are leveraging every opportunity possible to increase the results of their tradeshow and event programs."
Trends indentified in the report encompass both engagement approaches and technologies that can be harnessed to help marketers forge connections with their customers.
Some of the included trends are listed below:
Reach Amplification
Event-specific microsites, social media, webcasts and online communities will extend the life on an event.
Simultaneous Attendance
Non-attendees will be able to participate in events or tradeshows thanks to the integration of video.
Gamification
Spawned by video games and even Foursquare, using competition, interaction and fun game dynamics at events will help deepen engagements.
Tablets and iPads
All events will see an explosion of iPads and tablets.

Mobile
Three-quarters of the global population is mobile so event marketers will continue incorporating mobile-optimized strategies.
The complete Trends Report 2012 is available free to all members of the exhibit and events industry. It can be downloaded at www.livemarketing.com/2012trends.