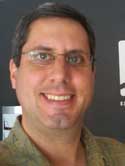 After a five-year departure, tradeshow industry veteran David Murdocca has returned to Atlantic in the role of senior exhibit consultant.


Murdocca has spent over 15 years providing pre-fabricated exhibits to clients from the mid-Atlantic through the Midwest.
"It was really a no-brainer," said Murdocca. "With the move, I now have the opportunity to offer completely unique solutions for my clients; while I still providing 'out of the box' portables and banner stands, I can now deliver an exact interpretation of an idea rather than forcing a design from a pre-determined set of parts."
Murdocca began his career with Atlantic Skyline in 1995 as an exhibit consultant in the Washington DC Metro area; landing such key accounts as ATF, U.S. Customs and FannieMae. He quickly rose to a leadership role in 2000, managing first the DC Metro, and eventually the Richmond/Hampton Roads sales staffs.
Business ownership took him to Louisville, Ky. where he owned and operated the Skyline Kentucky distributorship for four years. In 2009, he again began to serve larger accounts in a broader region moving to Skyline Exhibits Mid-America in St. Louis, Mo.   
"We couldn't be more pleased with David's return," said David Beach, founder and CEO of Atlantic. "His dedication to excellence and high energy personality echoes Atlantic's vision."