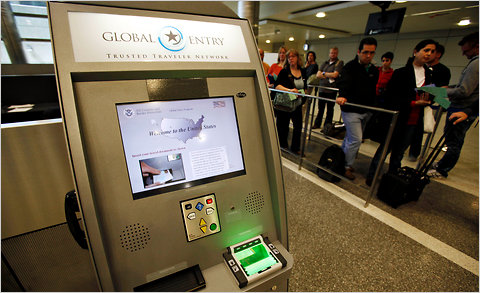 The Los Cabos Convention & Visitors Bureau, together with Marco Antonio Covarrubias, Governor of Baja California Sur, have announced that Los Cabos has implemented Global Entry kiosks for international travelers arriving at the San Jose del Cabo International Airport.

The San Jose del Cabo International Airport is the first airport in Mexico selected for this program, further affirming it as a safe and secure tourist destination.
Starting May 24th, Global Entry kiosks were stationed within the airport to allow pre-approved, low-risk travelers to avoid standing in line and proceed directly to the kiosk for expedited clearance upon arrival to Los Cabos.
Additionally, Los Cabos is now the only destination in Mexico to offer border preclearance, which provides added convenience for travelers upon arrival as well as departure. In the case of the latter, U.S. Customs Agents will be stationed at SJD to provide streamlined border and Customs procedures, significantly reducing the amount of time required to clear customs upon re-entry to the U.S. This new service, beginning later this year, also enhances ease of travel and expediency from regional gateways, where airports may not be equipped to process Customs directly.
"Los Cabos is proud to pioneer these U.S. Customs and Border Protection programs in Mexico for international travelers," said Gonzalo Franyutti, president of the Los Cabos Convention & Visitors Bureau. "The establishment of Global Entry kiosks at SJD confirms that Los Cabos is one of the most desirable tourism destinations in the world."
Although this program is intended for frequent travelers, there is no minimum number of trips necessary to qualify, making Global Entry a convenient addition to the San Jose del Cabo International Airport.