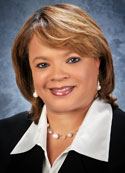 Leslie Lotten has been named assistant director of event services of the New Orleans Ernest N. Morial Convention Center, the sixth largest convention center in the nation. Lotten has served as event manager at the convention center for 23 years.


Lotten is one of nine event services managers who boast a whopping 136 years experience at the convention center, with five members serving 22 or more years. In her new role as assistant director, Lotten will work closely with Lois McLaughlin, the recently appointed director of event services, who came to New Orleans from the Pennsylvania Convention Center in Philadelphia. Lotten and McLaughlin will oversee the event planning process and guide clients through event set-up to ensure maximum satisfaction.
"In her 23-year career with the convention center, Leslie has forged solid relationships with our clients and has routinely anticipated and exceeded their expectations," said Bob Johnson, president/general manger of the New Orleans Ernest N. Morial Convention Center. "Her leadership capabilities, job knowledge and the respect she's garnered in the industry are an asset to the convention center. With the recent addition of Lois McLaughlin, these changes will help us achieve our goal of being the best convention center in the nation. Providing excellent service to our customers and their attendees is key."
A native of New Orleans, Lotten was nominated for PCMA's Distinguished Convention Service Manager of the Year award in 2008, a testament to the high level of service she provides to her clients. She is a member of Association for Convention Operations Management (ACOM).