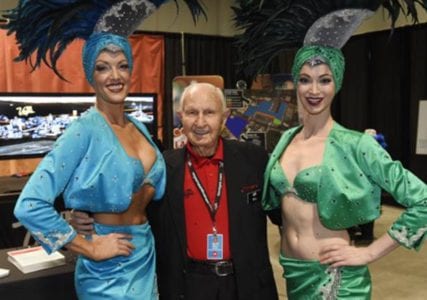 The Las Vegas Convention and Visitors Authority honored their eldest staff member, soon-to-be 100 year old, Bill Darwin on August 8 during the organization's regular board of directors meeting.
Bill Darwin is a vivacious and energetic member of the LVCVA team. He is often utilized by the organizations registration services to help staff various meetings, events and trade shows taking place throughout the destination. Earlier this year, Bill was featured in a special edition of the LVCVA 'Tourism Matters" video series. His video has received millions of views on social media, which has helped him gain recognition when he is out-and-about in our community. WATCH THE VIDEO HERE: https://www.youtube.com/watch?v=NVFNDv0XZQg
Here are some fun facts about Bill
Bill Darwin is turning 100 years old on August 19th.
Bill has been working for the LVCVA since September 2008.
Bill has worked for 102 shows via the LVCVA.
When the LVCVA staff learned Bill was turning 100, we knew we wanted to find special ways to honor and thank him for the incredible customer service he provides to Las Vegas' valued visitors.