by Bob McGlincy, director, business management at Willwork Global Event Services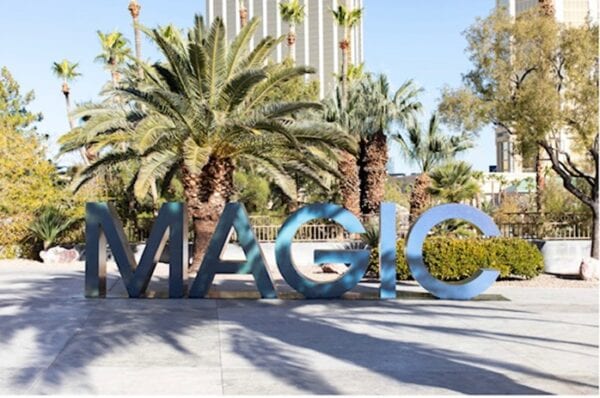 There is magic happening with face-to-face events, as more show management companies prove safe, successful, and live events can be a reality. Informa is one such company; they are moving from digital meetings back to live, in-person events.  But in order to do so, they wanted to do it safely.
MAGIC popped up in Orlando, February 9-11 this year. This popular fashion and apparel manufacturing tradeshow first appeared in Los Angeles in 1933, and was sponsored by the Men's Apparel Guild in California.  Initially promoting only men's clothing and accessories, over time it transitioned to include ladies apparel, as well as manufacturing services. In the late '80s the show moved from Los Angeles to Las Vegas, and held two shows a year (the larger one in August, and a slightly smaller one in February).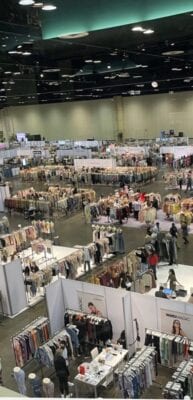 MAGIC is one of the ten oldest tradeshows in the U.S.  And, by any metric, it is one of the largest: in 2019, the summer show was in the top 15 tradeshows in terms of net square footage, and in the top five in terms of the number of attendees, as well as the number of exhibitors.  This is a huge show. And like all shows in the industry, it has been impacted by the pandemic, with some events being cancelled, and others going virtual.
Both the live and digital shows keep the brand alive, and allow for communication between buyers and sellers. Virtual shows can be more cost effective in some areas, allow for more data driven decision making, and may generate increased attendance. Live shows are more engaging, more interactive, and usually more rewarding and more profitable.  Most surveys indicate that the vast majority of attendees and exhibitors prefer live events—provided they are safe. And safety has to be the priority for both for show management, and for the venue.
Kelly Helfman (pictured right), commercial president of Informa Markets Fashion, says, "The safety and well-being of our guests is at the forefront of our in-person event planning."  She adds, summarizing survey responses from the buyers and sellers, "The majority said we are willing to come back to these live events as long as there are those safety measures in place that make us more confident to come."
MAGIC Pop-Up was a limited capacity event, and the safety and comfort levels of everyone present was paramount. For this show, Informa required specific actions, (a program called "Informa AllSecure") in order to ensure and maintain the highest levels of safety and hygiene. Some of the safety protocols enacted and enforced included:
A mandatory negative Covid-19 test result
Temperature scanning prior to entrance
Mandatory face masks
Social distancing
Regular deep cleaning
Hand sanitizing stations in exhibit hall
Safety graphics and signage
Thousands of buyers and sellers attended this event.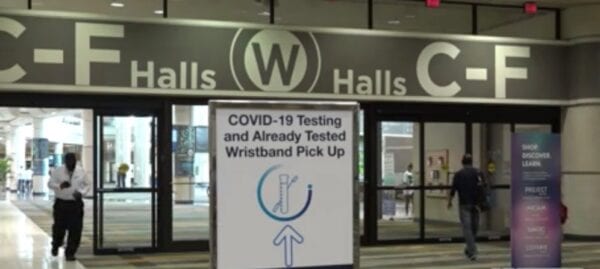 MAGIC is the first large tradeshow to implement on-site rapid COVID-19 testing. To enter the show floor, one first had to produce a negative test result, and then pass a thermal screening.  Once on the show floor, masks and social distancing were enforced.
There were no aisle carpets in this section of the hall, and no pipe and drape.  Exhibitors shared back-walls, or had fully open spaces.
The show was not only safe, it was also a success! Here's what some of the participants had to say:
"Met a lot of new retailers"
"Response was strong"
"Traffic was steady"
"I have opened new accounts"
"We just kept writing orders in the dark," said one exhibitor, after security turned off the lights at the close of the show.
"We felt like we were in more of a modern show here at Magic Orlando. The vibe and energy was so great and positive. Both exhibitors and retailers were happy to be back!"
Kudos to Informa, their many partners and vendors, the attendees and the exhibitors, and the OCCC, for making this event happen.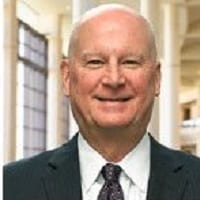 The Orange County Convention Center has been hosting live events for months, and was one of the first centers to earn the G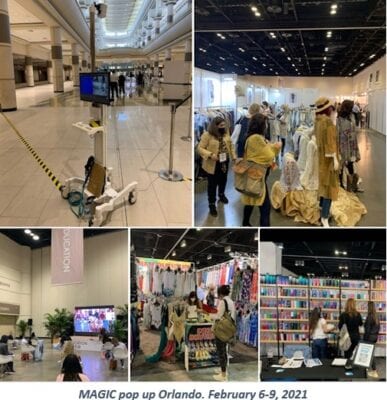 lobal Biorisk Star accreditation (GBAC STAR is recognized as the gold standard for safe venues).  The OCCC has been a leader in promoting live events.  During MAGIC's move-in, Mark Tester (pictured right), executive director of the OCCC, stated, "It can show the industry, and really the world, that you can have a safe event."
Informa was determined to produce a safe and successful live event.  Relocating the show from Las Vegas to Orlando was an immense undertaking. But show management was resolute in wanting a live forum for their buyers and sellers.
Even in the time of Covid-19, it is possible to create a safe and healthy tradeshow. But doing that requires dedication and hard work —along with the education, assistance, and cooperation of government officials.
MAGIC is scheduled to reappear live, in Las Vegas, August 9-11.
Bob McGlincy is director, business management at Willwork Global Event Services.  Willwork creates engaging, energized, and exceptional event experiences. He can be contacted at Bob.McGlincy@willwork.com