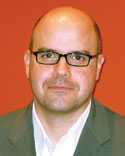 EWI Worldwide, a global live communications company, has promoted Matt Hubbard to president of its Exhibit Works division. Hubbard will lead the company's core division by focusing on building community between brands and customers through integrated exhibit programs, mobile tours, pavilions, themed environments and museums.  Hubbard most recently served as vice president of international marketing and global client services for EWI.


"As an advisor and employee these last 13 years, Matt has demonstrated a deep commitment to our company and clients," said Dominic Silvio, founder and chief executive officer of EWI Worldwide. "I believe in his vision and leadership. He is just the right person to lead the continued evolution and growth of this division."
Hubbard was pivotal in the 2007 rebranding of Exhibit Works to EWI Worldwide, which signified the company's evolution from an exhibit house to an integrated live communications company with full-service operations worldwide. Working hand-in-hand with colleagues, clients and partners across all EWI Worldwide operations, he will continue to lead this evolution within the Exhibit Works Division, bringing a strong commitment to serving clients with strategically-driven programs executed on a global scale.
"There has never been a more exciting time in our business," said Hubbard. "We have the tools today to optimize the entire live communications category, to extend the reach and impact of live programs using the social web, and to blow it all out on a global scale."
In other news, EWI Worldwide recently announced a strategic alliance with Swiss-based exhibit and event company, SYMA Holding AG. This alliance brings a network that spans more than 60 countries, providing a strong capability to serve global brands with global programs.