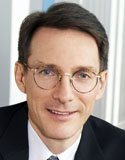 Starting August 15, 2011, a new managing director will take over Messe Düsseldorf Group's two Chinese subsidiaries in Hong Kong and Shanghai. This new employee succeeds Tony Fung, who retired as the founding managing director of both corporations.

Axel Bartkus will assume representation for Messe Düsseldorf recruiting and serving Chinese exhibitors and visitors at trade fairs organized by the Messe Düsseldorf Group. Messe Düsseldorf Shanghai Ltd. will continue to organize the extensive portfolio of events of Messe Düsseldorf in China.
"With Axel Bartkus, we have been able to recruit an excellent China expert for our company," said Werner M. Dornscheidt, president and CEO of Messe Düsseldorf. "Together with the trade fair teams in Düsseldorf and China, he will use his extensive know-how to expand the event portfolio and develop new topics in China."
In China, the Messe Düsseldorf Group currently organizes 10 trade fairs in accordance with the core themes of its parent company: print and media, materials and technologies, medicine and health, and fashion.
"With these two subsidiaries we succeed in transferring the competence of our product portfolio, which is extremely successful with its 23 leading global trade fairs, to the Chinese market," said Dornscheidt.
Bartkus holds a Master's Degree in Economics and Chinese and previously managed the division of trade fairs and exhibitions at the German Chamber of Foreign Trade in Shanghai, served as managing director at NürnbergMesse China for several years and recently held the position of director of the Asia desk for NürnbergMesse.
"Our new man in China comes with sixteen years of experience in the exhibition and event business in this country and has an extensive network of contacts on the Asian market developed during that same period," commented Hans Werner Reinhard, deputy managing director at Messe Düsseldorf.