Metropolitan Exposition Services Inc. (Metro-Expo), an international company servicing North America with complementary offerings in transportation and audio/visual, brought on a vice president of industry relations.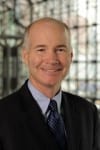 Mike Ruberry said he is very excited to be starting with Metro-Expo, a company with entrepreneurial spirit.
Ruberry comes to Metro-Expo with 32 years of industry experience. He spent his first 16 years on the service contractor side. He worked for United Exposition Service Company (UX)/GES as an account executive, operations manager, assistant general manager, vice president and general manager and vice president of national sales.
His last 16 years were with George Little Management (GLM), now Emerald Expositions. Most recently, he served as vice president of operations and customer relations.
During his time at GLM, Ruberry played an instrumental part of the show site operations for The National Stationery Show; International Contemporary Furniture Fair; The New York International Gift Fair (now known as NY Now); International Hotel, Motel & Restaurant Show; and Surtex.