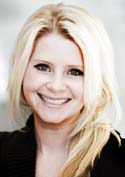 MG Design Associates, a full-service design firm, has added a new designer to its creative team.

Heidi Schubert has been designing exhibits and events as well as showrooms and retail environments for more than five years.
"Heidi brings hands-on experience creating custom and hybrid rental solutions that can help maximize a client's marketing impact and budget," said MG Design vice president, creative Rob Majerowski. "Her experience in designing exhibits for Europe, South America and Asia will help MG Design clients achieve brand consistency and cultural consistency around the world, while outperforming expectations and the competition wherever needed."
Since graduating from Ohio University with a degree in interior architecture, Schubert's designs have received a number of best of show recognitions. One of Schubert's first MG Design projects was helping the team to develop the MG Design 2011 Exhibitor show program.
New to the Chicagoland area, Schubert is proud to join the MG Design team.
"They are an extremely personable and talented group of people," she said.