Joining MG Design, a provider of exhibit design along with event planning and management services, is a digital interactive designer.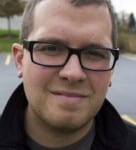 Ben Hermsen is now part of a team focused on building clients' digital tradeshow footprint and their tradeshow experiences with custom online, video content, interactive engagements, presentation and lead capture experiences.
"Adding Ben's design and front-end coding experience allows us to offer our clients enhanced tradeshow and event integrated marketing services," said Ben Olson, vice president of marketing, MG Design. "His talents and creativity are a great complement to our team of exhibit and graphic designers
Hermsen brings nine years of Web and graphic design experience in various industries to MG.