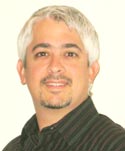 Momentum Management, Inc recently announced the addition of Glen Ruggiero to its account executive team. Adding this new position is part of Momentum's overall strategy to redefine service within the tradeshow industry.


"I believe Glen brings a unique perspective to the sales side having worked at various levels within the industry," said Rick Bellerjeau, general manager of Momentum. "By leveraging our consultative process with clients, he reflects the kind of approach we're fostering within the organization. Glen's new role within the company is just another way that Momentum Management is redefining service in the tradeshow industry."
Ruggiero will focus largely on the east coast leveraging the Momentum Relationship Cycle as a differentiator. Using this innovative technique allows Momentum to enhance the installation and dismantle approach across the company's client base.
Ruggiero began his tenure with Momentum in 2002 as a lead man on the show floor. He then moved into the corporate office as an account coordinator before transitioning into the role of account manager for the west coast sales team.