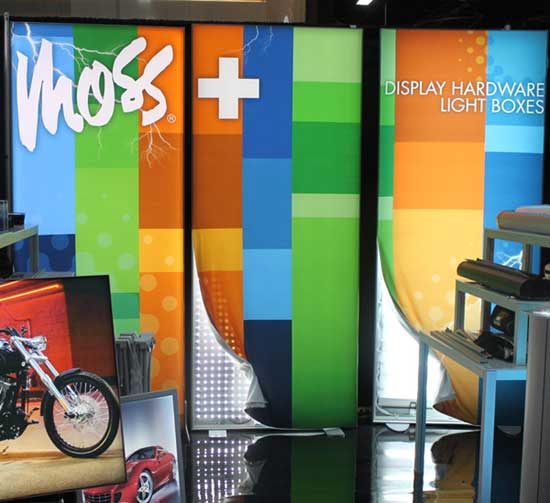 Moss has announced the expansion of its lighting solutions with the launch of Moss Radiance, a comprehensive line of light box solutions for tradeshows, live events and retail stores.

The Moss Radiance line includes three lighting technologies: A cost-effective compact fluorescent light blanket, an ultra-slim LED Edge-lit panel, and an exclusive and proprietary LED WebBright grid array. Each lighting option is designed to coordinate with one of Moss' three Groove extrusions, 40mm, 80mm, and 150mm, for optimal results.
Using Moss' Photo Fabric dye sublimation printing, Radiance light boxes feature high resolution, rich, and seamless graphics, up to 10-feet by 40-feet, which pop to life with illumination.
"We have developed the Moss Radiance line anticipating the special needs of the exhibit market," said Shelly Alex, VP sales and marketing. "Available in a variety of thicknesses and lighting technologies, the Radiance line of light boxes offers the exhibit market the brightest and largest light boxes to fit any budget. Radiance light boxes are portable, easy to set up and compact for shipping."
Moss debuted the Radiance line of light boxes at EXHIBITOR2011 in Las Vegas on March 28, 2011.