By Pat Friedlander
Read in Q4 Issue HERE .
"When the artistic legacy of a company's founder lives on and expands to enhance a contemporary brand, it's not out of line to say that's unusual. But in the case of Moss and its founder, Bill Moss, this is exactly the basis for the company's brand story, a company that has evolved to be one of the leading global specialist production partners for the event and exhibit industry.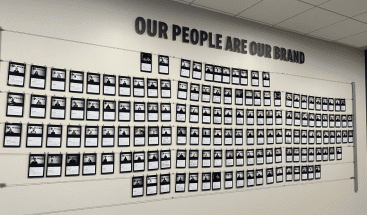 Moss today embodies Bill Moss's environmental awareness, innovative thinking, and passion for excellence in fabric architecture. From 1955, Moss, an artist, brought his design sensitivity to the world of pop-up tents, considering tents, in his own words, "functional sculptures."
But it wasn't until 20 years later, in 1975, that Moss Tent Works opened in Camden, Maine, with Marilyn Moss at the helm. Thanks to Marilyn's business savvy, the tent business trajectory changed dramatically when the company introduced the Stargazer Tent, which was innovative, lightweight, and easy to put up and take down.
In 1983 – 40 years ago this year – Moss Tents made its first trade show appearance at the Outdoor Retailer Show. As a cost-saving move, the company made its own trade show exhibit to display its tents. Like all of Moss's products, the exhibit was eye-catching, designed to reduce freight, and make installing and dismantling easy.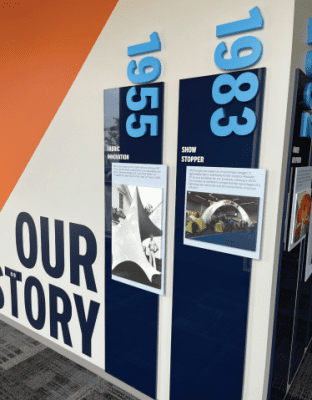 Those of us in the trade show business know that once something on the exhibition floor triggers your interest, you need to know more about that product. Other exhibitors asked how to get an exhibit like the one Moss had, and at that point, the trade show industry experienced a major revolution. Since then, lightweight tensioned fabric displays have become a standard design and construction technique and can be seen on show floors from Boston to Berlin to Bangkok.
Fast forward to Moss today, which still embodies the passions and architectural excellence of those early structures. As a company, it embraces innovative thinking, engineering excellence, sustainability, and respect for the environment that characterized its founders. Social responsibility is woven into the fabric of the company, literally and figuratively.
Walk into the Moss global headquarters just minutes from O'Hare Airport outside Chicago, and you're greeted by a mural that details the company's rich history. Around the corner is a wall labeled "Our people are our brand," with photos of all company team members: The Placemakers™. Like the team that originally signed on at Moss Tents, today's Moss Placemakers blend high-quality materials, cutting-edge production automation, sustainable practices, and world-class craftsmanship to create unique installations that transform spaces into impactful places. They actively listen, question, and tackle complex technical design challenges, providing partners with unprecedented solutions.
Chatting with the current President & CEO, Jason Popp, a veteran of the global exhibit and event industry, I learned how much Moss has evolved since the pandemic. Owned by EagleTree Capital, a private equity firm, Moss has invested heavily in the business since 2020 to ensure it can respond to the rapid return of in-person events and the ever-shorter lead times seen in the industry. Some of these investments include several new state-of-the-art printers, an in-house powder coating capability (which saves several days of lead time by not having to outsource), a laser etching and routing machine, and a new machining center.
The production facility reflects the end products produced – it is high quality, clean, and has been developed sustainably. The company chose to provide air conditioning throughout as it is better for the end product since fabric is sensitive to temperature and humidity. But it also provides an infinitely better working environment for production staff. Moss has made efforts to suppress noise on the production floor, allowing for greater concentration by staff for the very detailed work they do.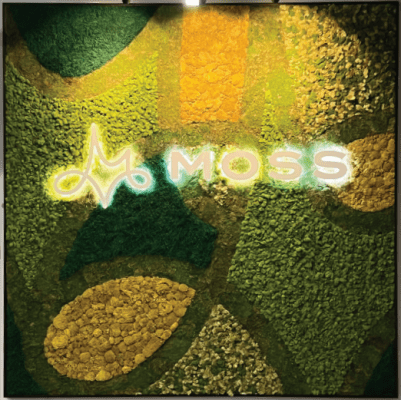 I also observed a quiet obsession with measurement – KPIs are displayed around the production floor, informing everything from cycle time to output metrics and rework. Moss is dedicated to continuous improvement and employs several staff trained in Lean Six Sigma techniques who solely work on quality and measurement throughout the business.
But it is the dedication to ongoing sustainability that most clearly connects the Moss of today with the original vision of the founders. Moss purchases renewable energy for its ongoing electricity needs, provides sustainable and subsidized healthy food for its staff, and gives employees grants and free charging for electric vehicles. The production operations in both Europe and the US are certified carbon neutral through Moss's carbon reduction actions and offsets purchased. Popp also said several announcements will be coming soon about new sustainable materials that Moss is testing and a comprehensive recycling program.
Moss was not only the first with fabric architecture for trade shows and events, but it remains the revolutionary best-in-class company Bill and Marilyn Moss envisioned. For the people who work at Moss, fabric is not a commodity; it's a planet-friendly solution created in a facility that carefully monitors its environmental impact. For more about Moss' sustainability initiatives, read this article as well as this one, which appeared in Exhibit City News earlier this year."
ExhibitCityNews.com Oct/Nov/Dec 2023 p80-81