Meeting Professionals International, one of the largest meeting and event industry associations worldwide, scored big with its World Education Congress recently held in Las Vegas. With a community of 60,000 meeting and event pros including 17,000 members and chapters and clubs in 19 countries, this conference is one of the highlights of those in the industry.
The organization provides innovative and relevant education, networking opportunities and business exchanges, and acts as a prominent voice for the promotion and growth of the industry. Paul Van Deventer, president and CEO of MPI, along with Brian Stevens, CEO of ConferenceDirect and the 2017 Chair of the MPI International Board of Directors are top professionals whom are truly committed to the success of the organization.
Excitement was in the air in an environment of enthusiasm…people were smiling and laughing everywhere, excited to see old friends and meeting new ones. Today, more people are working virtually so attending conferences such as WEC is very important. It was estimated that over 2,500 registered attendees, including 142 virtual attendees, participated. Approximately 55 percent of the registered attendees were planners and nearly 70 percent in attendance were MPI members.
This conference is also important from education point of view, giving attendees an opportunity to grow. MPI is very strong on education delivered over 70 education sessions. Michael Cerbelli's: The Hot List: 2017 luncheon was two hours of entertainment while getting introduced to new event ideas and services.
MPI Exchange Room, a smaller scale of IMEX America, which is its strategic partner, is a place where planners, attendees and suppliers were able to meet on a more intimate setting. It was a very casual atmosphere where everyone could come in-between sessions and catch up about their day. The most popular area was the puppy cuddling booth and the headshot station.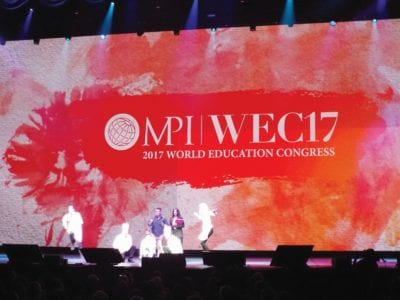 "When we meet, we change the word." www.mpiweb.org  So very true! The MPI Foundation raised more than $340,000 with The Big Deal, Rendezvous and the Not-So-Silent Auction compared to $300,000 raised from these events during WEC 2016. MPI also raised another $218,000+ with the President's Dinner, compared to $145,000+ raised last year; funds raised from the event will support the MPI Academy in its efforts to provide more education to our global community.
The MPI Chair Award was presented to Michael Dominguez, senior vice president and chief sales officer of MGM Resorts International. "Part of my job as this year's chair is to select a recipient of the MPI Chair Award," said Stevens' speech during the RISE Awards luncheon. "We look for someone who has demonstrated exceptional service to MPI. When I considered who had not yet been recognized, this year's choice became obvious. This person has more than 30 years in the hospitality business, and has been active with MPI since 1992. He spent five years on the leadership team for the Southern California chapter, first as Vice President of Finance, then Education, then Membership and then finally as President of the chapter. He served on the Marketplace Advisory Council, the Industry Business Roundtable, and the MPI Foundation. He then spent five years on our international board of directors. He participated in the Audit Finance Committee and the Board Development Committee, and finally became chair of the IBOD in 2013. He's currently one of the most sought-after speakers in our industry. In just the past five years, he has spoken at over 100 MPI chapter events. He's been recognized as Chapter Leader of the Year by Southern California, and he was the inaugural recipient of MPI's Industry Leadership Award in 2015. I am a bottom line guy, and he got MGM to invest over $2 million in the last 4 years to support MPI. He has presented at several Conference Direct events, and always receives the highest ratings of any speaker."
The host hotel this year was MGM Grand. During the meeting, MGM Grand broke ground on conference center and Stay Well meetings expansion. In response to customer demand, the MGM Grand Conference Center is adding 250,000 square feet for a total of over 850,000 square feet.
As part of the expansion, Stay Well Meetings—the industry's first-ever wellness meetings experience which was launched at the hotel in 2014 – also will expand its footprint by 22,000 square feet and encompass the conference center's entire second floor. Demonstrating the demand for a new way to conduct business, Stay Well Meetings feature amenities and programs that stimulate healthy, productive and creative work environments that many clients are actively seeking.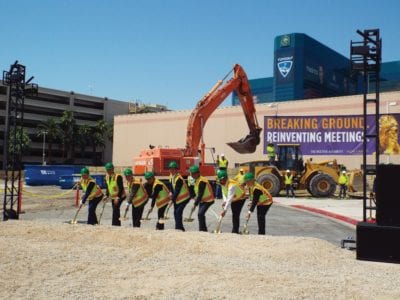 "The expansion of Stay Well Meetings, along with our 340 Stay Well accommodations, allows MGM Grand to offer a completely unique destination for groups that carries through the entire resort experience from the board room to the guest room," said Ernest Stovall, vice president of sales for MGM Grand. "The Conference Center expansion allows us to grow with the needs of our clients and drive new and expanded business to Las Vegas." The project is scheduled for completion the end of 2018.
Created by Delos, the program offers healthy environments for high-performance meetings with meeting rooms and spaces designed to optimize the health and well-being of attendees while complementing the existing Stay Well room and suite experience. To celebrate the debut, Delos Advisory Board member Dr. Deepak Chopra led the ribbon-cutting ceremony at MGM Grand during MPI
"Wellness is penetrating the hospitality industry and working environments are changing rapidly, so it was a natural progression for Delos to incorporate its innovative Stay Well features into meeting environments," said Delos Founder Paul Scialla. "With the creation of the Stay Well Meetings program, we have made a breakthrough in the design and approach of business meetings. These features not only provide health benefits to attendees, but also lead to increased productivity, creativity and collaboration."
Featuring Delos' state-of-the-art designs and innovative wellness features, Stay Well Meetings creates a healthy work environment that helps increase the energy, focus and productivity of attendees with meeting spaces that offer evidence-based health and wellness elements, including:
Air Purification; WELL Shield: Self-cleaning photocatalytic coating; Cleaning Protocol: Use of hypoallergenic products and state-of-the-art UV wand cleaning tool; Circadian Lighting: Engineered to emulate the properties of natural light; Virtual Biophilia: Virtual window lights; Chromatherapy: Use of dynamic color design; Acoustic Elements; Ergonomic Elements; Hydration Station; Aromatherapy; Biophilia; Mobile Application: Software for activity, nutrition, jet lag, and Cleveland Clinic Wellness programs; Wellness Station and tools such as guided meditation; Cleveland Clinic Wellness: Access to online programs for sleep, stress and nutrition and Healthy Menu Options.
Dr. Chopra said, "The Stay Well experience is changing the way we travel today, and as someone who is always on the road, it's an area of particular interest for me. With the outstanding success of Stay Well at MGM Grand, I am thrilled to see these evidence-based wellness technologies introduced in meeting and convention spaces, one of the most important places for health and wellness."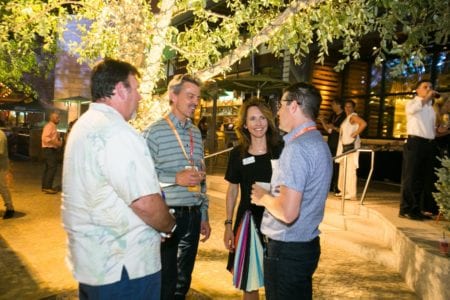 I had the honor of staying at Stay Well Room. I truly felt the difference as soon as I entered the room. The room did not feel stuffy or smelled like cleaning products. The purifying system giving the room a clean smell and the Ascents Diffuser aromatherapy added spa feeling which was very pleasant and not over powering. My favorite was the note wrapped around the remote "This remote has been cleaned using stay well cleaning protocols." Showering in Las Vegas can be unpleasant to guests since they are not used to the hard water. The Stay Well Shower Infuser definitely made the difference. I even went online and bought it. (staywellshop.com/bath) and the fact that I could drink from the faucet was remarkable, the water was tasty.
MPI will return as strategic partner and premier education provider for IMEX America 2017. For the seventh consecutive year, MPI will deliver educational programming during IMEX America in Las Vegas. The association will present the daily keynotes as well as power the Smart Monday program on Oct. 9. Also, the MPI Foundation will present its largest fundraising and networking event of the year—Rendezvous, the IMEX America Night.
Next year MPI's meeting will be held June 2-5, 2018 in Indianapolis and I highly recommend attending,
Calanit Atia is founder and president of A to Z Events, Las Vegas DMC and Nationwide Talent Agency, an award winning event planner, a Las Vegas ambassador, social media maven, columnist, Air Force veteran and speaker. She can be contacted at Info@AtoZevents.com, Twitter: @CalanitAtia, linkedin.com/in/calanit, Instagram: @CalanitAtia, Facebook.com/calanitatia1 #WEC17 #MPIWEC #MPI