The National Conference Center, a Virginia-based comprehensive conference center that's one of the largest in the U.S., welcomed a new chief wine officer.  
Mary Watson-DeLauder CS, CSW, is a certified sommelier and certified wine specialist with more than 30 years in the wine industry.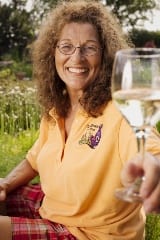 "We are delighted to have Mary as part of our team and to broaden our wine and culinary programs and options for our guests," stated Phillip Saims, director of sales and marketing, The National Conference Center. "As the premier training and conference center in the country, with the largest ballroom in Northern Virginia, we want to provide education opportunities for the general public as well as our corporate, association, government and military customers."
Watson-DeLauder created and has been a contributor to the Wine Spectator Awards of Excellence.  She has also been featured at the prestigious James Beard House in New York City six times and has a lengthy list of awards and accomplishments.  She is well-known throughout the wine industry in Virginia and the Washington, D.C. region as well as California.
"Mary's contacts in the community will allow us to include special behind-the-scenes tours and tastings to area wineries as well as wine events on our beautiful property," added Saims.
For more information on NCC and West Belmont Place's wine program and upcoming events, visit www.conferencecenter.com.