By Ray Smith
Exhibit City News
The 4-foot aluminum stepladder lying in an open casket caught the eye of Renee Changnon as she walked the expansive floor of the National Hardware Show, held May 7-9 at Las Vegas Convention Center, where some 2,600 exhibitors were vying for attention among the estimated 19,000 show attendees.
It was a prop used by Little Giant Ladder Systems to symbolize the end of conventional stepladders, and it certainly worked for the Springdale, Utah-based retailer, says Changnon, retail outreach coordinator for the North American Retail Hardware Association.
"This is your grandpa's ladder," Little Giant Executive Vice President Brad Kendrick explains at the retailer's booth. "It's dead."
His company's King Kombo A-frame ladder eliminates side-to-side wobble resulting from a spreader bar, carries the highest weight rating of 375 pounds and meets OSHA standards for leaning it against walls.
It's got a rotating top cap that allows the ladder to fit against a framing stud, as well as inside and outside corner frames, with wall pads and feet designed to prevent slippage. It also has a 4-foot extension.
Digging into the nuts and bolts of the industry, the National Hardware Show brought the latest innovations and improvements to the forefront with new product launches, NHS awards and educational sessions.
"We're happy with the quality of people who stopped by and talked to us. It was really good, not just casual conversation. It was serious," says Steve Eggers of Clinton, Iowa, who attended previous National Hardware Shows but was exhibiting for the first time with Custom-Pak Inc., a company that manufactures blow-molded products.
Anne Frett credited show producer and manager Reed Expositions for having all the materials ready for Custom-Pak's booth.
"We shipped it out in April and got an email the next week that it was here," Frett says. "They even stopped by and followed up with us to make sure we had everything."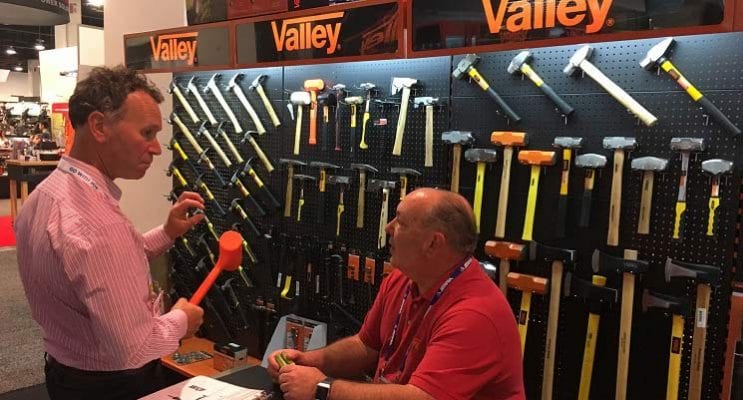 National Hardware Show opened with a keynote address by True Value Chief Executive Officer John Hartmann and featured several special events, including the popular Tailgate, Backyard and Barbecue party in the convention center parking lot.
The Lancaster Buying Show, located this year at Westgate Las Vegas, included manufacturers such as Chapin, Honeywell, Merit Pro, Mad Dog, Stanley Black & Decker and Zorr Corp.
The first edition of Women's Empowerment Series impressed Katie McHone-Jones, event manager and retail support for NRHA. The panel of women talked about their risks, rewards, failures and success.
She also found the Tiny Home Village to be "fascinating," and saw a lot of people taking video of riders on Traeger Grills' mechanical pig at the entrance to the outdoor barbecue area.
The excitement continued in the NHS Media Hub as both "The Money Pit" and "On the House with the Carey Brothers" were broadcast from the show floor.
Zack Giffin and John Weisbarth, co-hosts of Tiny House Nation, defined the role of the small build and construction technology industries in bringing affordable and sustainable housing to communities in their presentation, "Community Building with Purpose."
Tiny Mountain Houses, a division of the nonprofit Operation Tiny Home, displayed a 300-square-foot home priced at $61,900 for the standard model, plus $18,000 in options.
"Tiny homes are a booming niche, especially where the cost of a home is skyrocketing," says NRHA's Changnon, mentioning a friend in the San Francisco Bay area who purchased one. "You can pick it up and take it with you when you move."
Frank Mondelo (pictured above) of Valley Industries in Paramount, Calif., has been displaying the company's tool products at the National Hardware Show for about six years. He likes coming to the show, but he hates the onslaught of sales pitches he gets from foreign vendors, pointing to a stack of brochures left at his booth.
"China tariffs are killing us," Mondelo says during a conversation with a prospective buyer. "A lot of companies route to Taiwan and Vietnam. But this is nothing new. In 2004, (President George W.) Bush put tariffs on steel and it just drove up prices in the United States."
Other products that stood out at the National Hardware Store include the Bio Bidet toilet seat that provides an extra level of cleanliness; the Ooni oven that heats up to 900 degrees and cooks a pizza in 60 seconds; biodegradable gloves for picking up after your dog; and a cooler with separate compartments so you can store live bait on one side and beer on the other, if that fits your taste.
The National Hardware Show celebrates a rich history spanning nearly 75 years of serving the home improvement marketplace. From its early beginnings in New York during the post-World War 2 housing boom and eventual move to Chicago in the 1970s, to today's current location in Las Vegas, NHS continually evolves through the industry's involvement, commitment and passion to improving America's quality of life through their homes. Today, NHS is the place for global manufacturers, associations, organizations and the media to get an unfiltered view of the industry, hands-on experiences, and access to the latest innovations and retail trends to enhance their business. For more info, visit www.nationalhardwareshow.com.