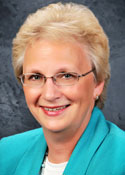 The New Orleans Ernest N. Morial Convention Center, the sixth largest convention center in the nation, has appointed a new director of food and beverage.

Rose Lehn previously served as the Center's house manager for two years.
In her new role, Lehn will oversee operations between the facility and Centerplate, the Center's exclusive food service contractor, to ensure a team-driven approach that will ensure that client and attendee experiences exceed expectations. Lehn will be responsible for enhancing F&B operations by developing an overall food and beverage strategy, evaluating day to day operations, crafting new capital program and contract compliance.
This newly created director underscores the Convention Center's commitment to creating compelling hospitality solutions for clients that is reflective of New Orleans's unique culture.
In its 2010 search for a new food service contractor, the Center tried a unique approach to attract bidders who understood the essence of New Orleans food and would be able to successfully help the Center distinguish itself as a venue with the highest culinary standards, as befits a city that is known for exceptional food and dining experiences.
"With Rose at the helm of our new partnership with Centerplate, the New Orleans Convention Center will offer the best food service of any convention center, which will only enhance New Orleans's reputation as a world class dining capitol and convention destination," said Bob Johnson, president/general manager of the New Orleans Ernest N. Morial Convention Center.
A native of Cincinnati, Lehn graduated from Ohio State University with a degree in Restaurant Management. Prior to joining the New Orleans Convention Center, she was the food and beverage manager over retail outlets at the Birmingham Jefferson Convention Complex for ten years. Her career in the food service field also includes 12 years for Sportservice Corporation in many different venues, such as convention centers, horse and dog tracks, baseball parks, zoos, parks and beaches.