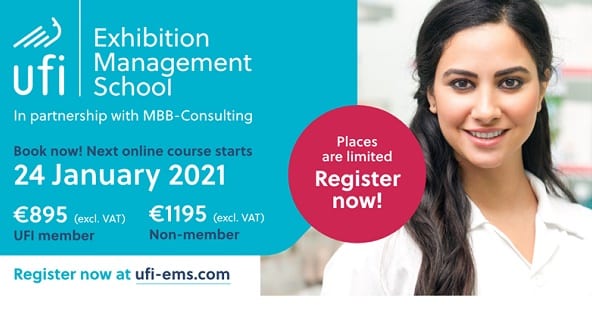 The UFI Exhibition Management School is open for registration for their next series of classes which will run from January 24-February 18. Delivered by a faculty of industry experts, the UFI-EMS will combine both global insights and regional expertise for the Middle East and Africa region.
Five reasons to register:
Enrich your business network: Work alongside industry peers and grow your global network.
Grasp the value of online training: Set to two hours per topic, the online UFI-EMS will allow you to take part in the training in addition to your day to day obligations.
Continuous interaction – Access to focused alumni group on the worldwide ETT club industry e-platform.
Upgrade skills – Continue to stay on top of market trends and developments in the exhibition industry.
Globally recognized certification – Graduates from the UFI-EMS will receive a certification of completion.
If your New Year's resolution is to further your career, then join the UFI-EMS this January!
For more info, click here to view the brochure. For any questions, email ems@ufi.org. To register, visit https://ufi-ems.com
The Global Association of the Exhibition Industry, UFI, is the global trade association of the world's tradeshow organisers and exhibition centre operators, as well as the major national and international exhibition associations, and selected partners of the exhibition industry. UFI's main goal is to represent, promote and support the business interests of its members and the exhibition industry. UFI directly represents more than 50,000 exhibition industry employees globally, and also works closely with its 60 national and regional association members. More than 800 member organisations in 83 countries around the world are presently signed up as members. Around 1,000 international trade fairs proudly bear the UFI approved label, a quality guarantee for visitors and exhibitors alike. UFI members continue to provide the international business community with a unique marketing media aimed at developing outstanding face-to-face business opportunities. For more info, visit www.ufi.org, call +33 (0)1 46 39 75 00.