Nimlok, a division of Orbus Exhibit & Display Group, and Holland, Ohio-based 2-SCALE, announced that one of their recent exhibit projects won the "Best Booth Award" at the Lumber and Building Material Expo February 4-6, 2015 held at the Hynes Convention Center, Boston. 2-SCALE's client, HIAB, was awarded the prize by the Northeastern Retail Lumber Association (NRLA).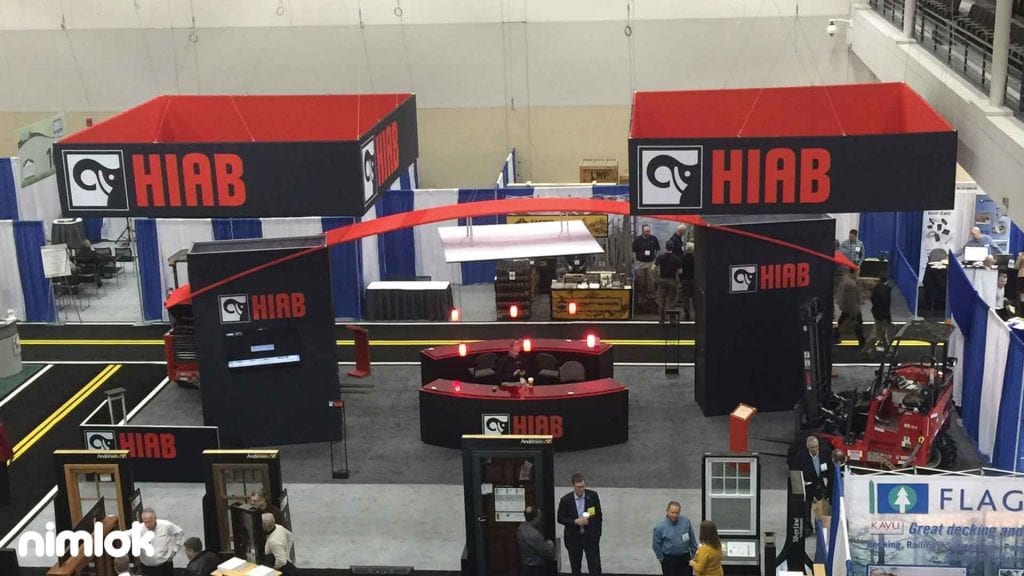 The exhibit designed and built for HIAB was a 20' x 50' display. The HIAB exhibit featured extrusion-based ground structures covered with fabric graphics which were connected by a sweeping fabric arch. Two square hanging structures emphasized the company's brand, enabling visitors to see the exhibit from many aisles away. Custom-built wood reception counters provided a central registration and meeting place for the exhibitors. 2-SCALE worked closely with HIAB to translate their corporate brand into an exhibit that met their functional needs with a sleek design and bold messaging.
The HIAB exhibit was a project that combined many of Nimlok's exhibiting strengths and capabilities—from modular extrusion elements, fabric graphics, fabric structures to custom woodworking and lighting.
"The Nimlok design team did an exceptional job of interpreting my client's vision for their new display program and translating it into an award-winning exhibit," said Sarah Goodnough, senior account executive, 2-SCALE.
The award-winning exhibit garnered praise from attendees.
"We received an overwhelming amount of compliments on our booth," said Gregory Noone, regional sales manager, HIAB USA. "Needless to say, we've never had that level of feedback and intrigue about our booth. It was a prideful show for us and we clearly stood out head and shoulders above our competition."
HIAB's award-winning booth will make several additional appearances at shows across the U.S. for the remainder of 2015.