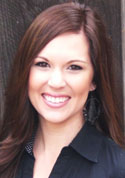 Nth Degree, a full-service global event marketing and management company, has announced the addition of a new account executive in California.

In this role, Nicole Silveira is responsible for new business development activities and managing existing client relationships in the company's tradeshow group.
"Nicole brings a fresh perspective to our team having managed client accounts for leading exhibit designers and fabricators," said Scott Bennett, executive vice president of sales, Nth Degree. "Her expansive industry knowledge and client management expertise are valuable assets that will ensure her success. Nicole's appointment supports our commitment to hiring experienced people who think creatively and that will uphold our values."
Silveira began her career in the industry as an account manager for Cyclonix Inc. in 2006. She won "Rookie of the Year" before being promoted to account executive, a role in which she managed large client programs.
She continued her career as an account executive for The Taylor Group with a focus on new business development. Silveira has a B.A. in Business Administration from San Jose State University.