After an award-winning 2021, Electrify Expo jump-started their 2022 season at the Long Beach Convention Center, and posted some stunning numbers:
27,451 attendees
25,102 demo rides
40 million social media impressions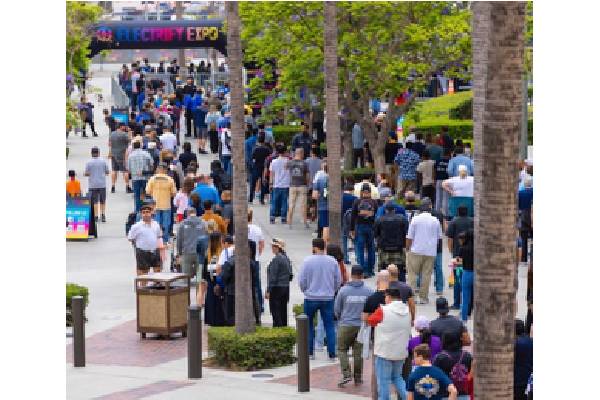 Attendees were primarily 35 to 49 years of age, and invested more than four hours of time at the show – having fun and learning about the benefits of EVs. Two of the advantages of this outdoor Expo is that shoppers can easily test drive and compare different models, and they can do so without sales pressure. Car companies brought between 3 and 8 EVs each, and provided 5,902 test drives; had they brought more vehicles, no doubt there would have been more test drives.

The New York Expo will be August 27-28, at the Nassau Coliseum on Long Island. Major automobile brands offering test drives will include BMW, Chrysler, Kia, Lexus, Polestar, Toyota, Volvo and VW. And of course, the show will include a vast variety of electrified rides: not only electric cars, motorcycles, and trucks, but also other e-mobility products including e-bikes, e-scooters, e-skateboards, e-surfboards, e-foils, and some amazing electric watercraft. In addition to brands demonstrating electric mobility, there will be companies showing tires, charging stations, and offering real estate and insurance solutions. But the main draw, of course, are the cars, bikes and other e-mobility products.
After New York, future Electrify Expos this year will be in Miami, October 8-9, and in Austin, November 11-13.
For Electrify Expo event details, including ticket information, visit www.electrifyexpo.com.
Interest in electric vehicles continues to race forward. In the next few years, the number of brands offering electric vehicles will increase dramatically, as will the number of individual models. Prices are coming down, ranges are increasing and charging times are decreasing. There will be more electric cars on the road, and more charging stations around the country.
Car companies are betting on EVs:
Nissan is investing $17 billion with plans for 15 EV models by 2030.
Ford is investing $30 billion over five years, and expects 40 percent of all new production models to be electric by 2030.
Toyota is investing $70 billion, and expects to have 30 all-electric models by 2030.
VW is investing $86 billion in EVs this decade
General Motors recently closed a deal with LG Chem to purchase sufficient raw cathode for 5 million electric vehicles. GM has promised 20 new EV models and plans to be carbon neutral by 2040.
VinFast expands into the US by breaking ground in North Carolina; they will be producing electric cars in the States in 2024.
Hyundai and Kia are all in: they "have halted any further development of the internal combustion engine."
By 2031, the global EV market is projected to be $1.2 trillion. That's "trillion" with a "T" — an average 21.1 percent CAGR over nine years!
The future is electric!

Bob McGlincy is director, business management at Willwork Global Event Services.  Willwork creates engaging, energized, and exceptional event experiences.  Bob can be contacted at Bob.McGlincy@willwork.com