by H. K. Wilson
It's officially summertime, and with the change of season, the demand for face-to-face events is accelerating! It's an exciting time to be in the industry, as lots of new innovations are appearing on the show floor. Both Abex Exhibits and beMatrix have developed new products for these new times and SISO has opened registration for their summer conference, Women's Leadership Forum, CEO Summit and monthly virtual Small Business SIG roundtable discussions.

Abex is Back to the Future and Open for Business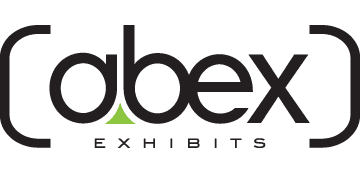 Robbie Blumenfeld, CEO of Abex Exhibits, thought that after 41 years in the tradeshow industry, he had seen it all—from the fear of travel and large gatherings after 9/11 to the economic collapse in 2009 that slowed tradeshow exhibiting and attendance dramatically. In retrospect, these occurrences seem like small bumps in the road compared to the complete and utter shut-down of the tradeshow industry from the lockdowns. What hasn't changed, however, is how the industry and Blumenfeld responds to adversity.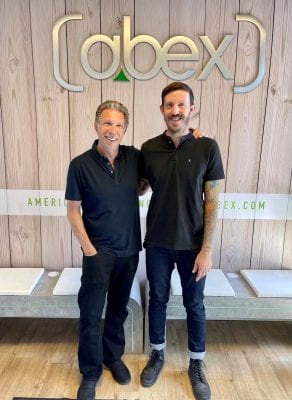 Blumenfeld, alongside his son and protégé, Zach (pictured right, L-R), have used the past year to develop new products for the future of exhibiting as well as to create a new website to simplify ordering in this era of advanced technology.
"We really took the time to reflect on what tradeshow distributors required from a manufacturer in 2021," explains the elder Blumenfeld. "Of course, quality and service are always a number one priority and always have been at Abex, but we are now focused on some popular key products that we can manufacture here in the U.S., and at a competitive price point."
Among those key products is Lumiwall (pictured above), which Blumenfeld notes is different than a standard light box, as Abex has created 10×10 and 10×20 booth packages with curved, straight and geometric shapes. Lumiwall also has the option to add accessories, and as with all Abex products, the Lumiwall packs in an Abex manufactured rotomolded transport case.
"Our ability to manufacturer rotomolded cases at our facility in California definitely sets us apart," he adds. "Our products ship in reusable, protective cases, so there is less damage in transit, which means the products last longer."
As shows begin to open this summer and fall, Blumenfeld foresees a spike in rental of exhibits rather than purchase as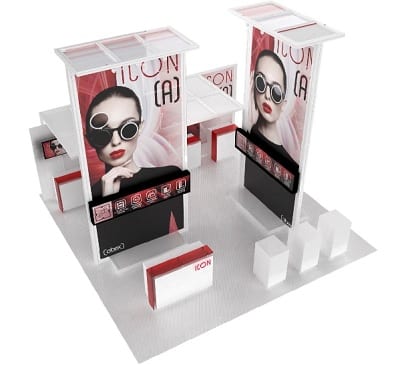 exhibitors ease back into exhibiting. "I think exhibitors will want to test the waters, and rather than commit to a new booth, they will likely want a new rental in the future," he says. "We anticipated this change, and we are ready to meet the demand with a new line of rental products called Icon Exhibits."
Icon Exhibits (pictured left) is a sleek extrusion system with silicone edge fabric graphics that offers locking storage counters, unique canopy ceilings, and has the ability to be customized. With these new products, along with several others, Robbie and Zach stand ready to meet the new demands for 2021.
"We're back and looking to the Future of Exhibiting," Zach says.
Abex leads the industry in the design and manufacturing of portable exhibit solutions worldwide. From portable pop-up displays and easily installed tension fabric displays to custom hybrid exhibit systems to flooring, storage cases and counters, Abex creates impactful, functional and cost-effective solutions for tradeshow and retail environments. Abex Exhibits can be found wherever trade shows and events take place in over 60 countries on every continent. For more info and to see the full line of Abex products, visit https://abex.com.
beMatrix Innovates Outdoor Solutions With Pop-OUT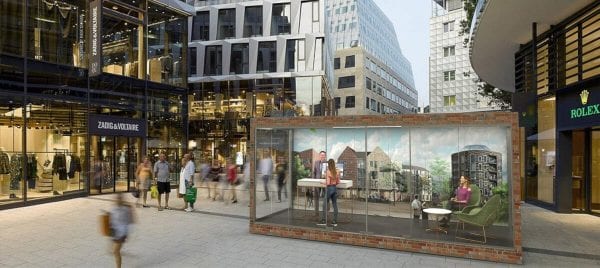 Live events outdoors have an appeal all their own, and they're definitely here to stay. That is why beMatrix designed Pop-OUT to support an array of possibilities, including outdoor shops, events, product presentations and more.
beMatrix's new Pop-OUT delivers the convenience of containers with the product innovation of beMatrix. Its dimensions and setup make pop-OUT fully compatible with the beMatrix system, making it an investment that maximizes current beMatrix inventory.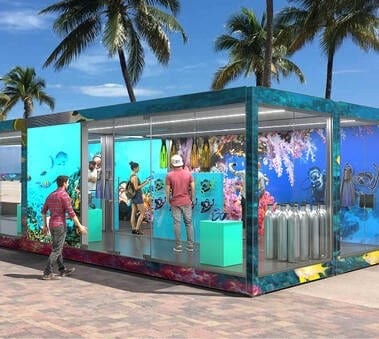 pop-OUT comes standard in one size and color. The structure contains a floor plate, a ceiling plate and four beams. Once the structure is placed, you choose how to finish the structure. It can be closed with walls of frames or glass. For maximum fit with the beMatrix DNA, the pop-OUT elements can be linked or stacked depending on the need.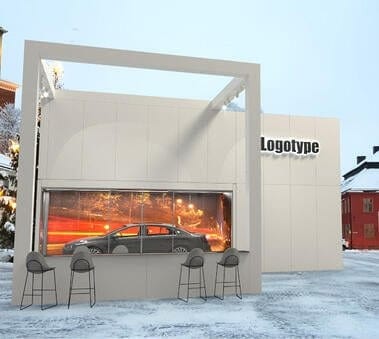 In response to the many questions beMatrix has received about what pop-OUT is and how their customers can use it, the company has produced a webinar that provides an in-depth look at the new product range from the beMatrix team itself.
Watch the webinar on demand at: https://bematrix.webinargeek.com/replay-pop-out-to-more-detail-us?utm_medium=email&_hsmi=135251619&_hsenc=p2ANqtz-_7AKyQ3b982EUSbVeFlbZsdgL52cD4Xq563758Du6VYP5AvOXkjJOsM1aPl5Yw-TlUPyQf46n-Y20F4LLyBnGlGP2J-eYQcB_GGU2VdwfVuHRQySE&utm_content=135251619&utm_source=hs_email
beMatrix is the o
riginal frame system with big holes since 1993, a heritage they proudly carry forward, continuously improving upon every day, with an emphasis on quality and sustainability. As the originator of this exhibit building concept, they continue to reinvent it by continually adding improvements like curves, pivot doors, and the ability to use both rigid and fabric graphics in the same frame. beMatrix produces a Tooless (TM) system, which focuses on turning the "wall frame system" into a "360° hidden building solution" with integrity and respect for people and the planet. For more info, visit www.bematrix.us.
SISO's Sizzling Summer Conference Lineup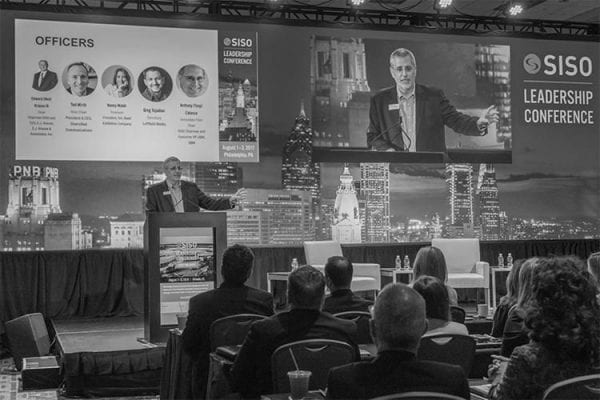 In its ongoing mission to mission is to provide peer networking opportunities, education, industry information, streamlined business processes and industry best practices to its members, the Society of Independent Show Organizers is presenting a new lineup of critical programming this summer.
Share, learn and be inspired at the SISO Summer Conference, kicking off on August 24 in Louisville, Ky. Rub elbows with fellow show organizers who run and market some of the most important trade and consumer shows in the world and hear an inspiring roster of speakers and panelists.
Hear new ideas that will transform the way you do business
Discover new ways to solve practical problems
Build your intellectual capital and inspire your co-workers when you get back to the office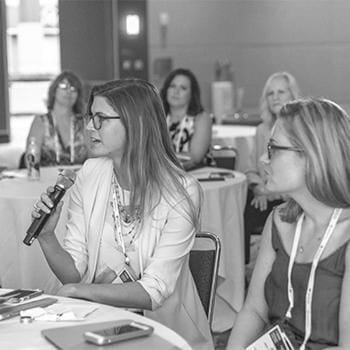 SISO is once again offering an extended SISO Women's Leadership Forum, which will run 2-6 p.m. ET on Monday, Aug. 23, and will continue from 9 a.m.–5 p.m., on Tuesday, Aug. 24. The SISO Women's Leadership Forum will end just prior to the opening night of the SISO Summer Conference.
Pre-registration is available at: https://www.siso.org/summer/register-your-interest.
The SISO Small Business SIG continues to hold open monthly roundtable discussions, which take place at 11:00 a.m. ET on the second Tuesday of the month. Additional dates will be added moving forward. Mark your calendar and join the July session 11 a.m.-12 p.m. ET on July 13.
Pre-registration is not required for online Small Business SIG discussions. A reminder with connection details will be shared in advance of the sessions with the Small Business SIG community. Email info@siso.org with any questions.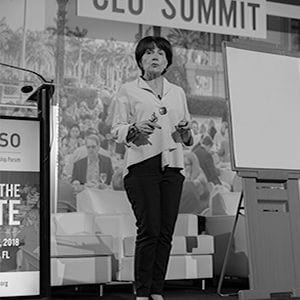 The August session will be live and in-person at the SISO Summer Conference in Louisville, Kentucky.
The SISO CEO Summit, touted as "the" networking and information-sharing event of the year for the global show organizers large and small, is already on the calendar for March 21-24, 2022, at the Vinoy Renaissance Resort & Golf Club in St. Petersburg Florida. SISO boasts that no other event brings together the caliber and range of C-Level executives from the events industry.
Pre-registration is available at https://www.siso.org/CEO/register-now.

The Society of Independent Show Organizers' members include companies, corporations and other for-profit entities that own, produce or provide full-service management of face-to-face tradeshows, consumer shows, expositions, conferences and events. SISO membership is a combination of large corporations and small entrepreneurial enterprises that do business around the world. SISO's 200 member companies produce thousands of events around the world. SISO's Mission, is to meet the common needs of our members, by providing peer networking opportunities, education, industry information, streamlined business processes and best practices in the industry. For more info, visit www.SISO.org
On the Road to Recovery is a series about celebrating the innovators, the imagineers and the glass-half-full types who keep finding new opportunities in our topsy-turvy world. If your company has created new products or found a way to pivot and keep working during these difficult and challenging times, please email us at newsdesk@exhibitcitynews.com for inclusion in future stories in this weekly series.