by H. K. Wilson
According to Robert Greene, author of the book Mastery, "The future belongs to those who learn more skills and combine them in creative ways." In this week's "On the Road to Recovery," we are heralding three successful companies whose determination to keep innovating is propelling them forward to an optimistic 2021.
Christie Pandoras Box Rolls Out New Render Engine – Powered by Medialooks Video SDK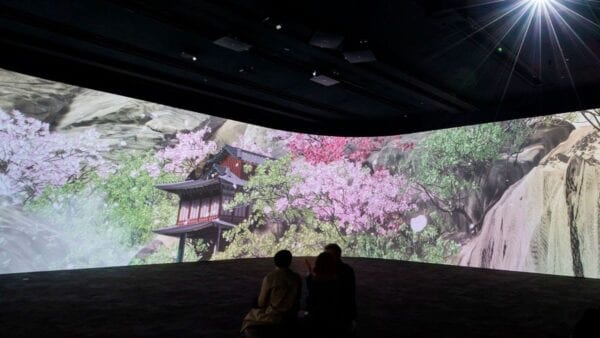 Christie, a leading supplier of visual display technologies, has recently released a new version of its media server, now with expanded file format support and 10-bit color depth. Medialooks Video SDK is an essential element of Pandoras Box, a turn-key solution for real-time rendering, 3D compositing and projection.
Christie Digital is a global supplier of audiovisual equipment, digital cinema devices, collaboration and presentation products. Together with its partners, it has created more than 200,000 AV installations around the world. In 2015, Christie acquired German company coolux, adding its media and show control system to its own global portfolio and becoming the first brand to offer end-to-end AV solutions.
Historically, media servers arrived from the event industry, helping technicians properly combine AV systems with lights and other elements of stage engineering. This was the initial successful market for Pandoras Box. With more customers willing to incorporate video into their shows, the media server evolved from simply replacing DVD playback to a fully automated media control system and gained new markets, such as cruise ships, airports, museums, theme parks and shopping malls. Pandoras Box can be found behind interactive displays at museums, within various Las Vegas shows, or even orchestrating the movement of LED panels mounted to robot arms.
In 2010, the team integrated a DirectShow QuickTime playback component from Medialooks and, with the recent release, switched to MFormats SDK, a powerful playback and I\O software development kit. The integration of MFormats SDK into the new render engine added playback support for dozens of media types including ProRes or H.265 with 10-bit color depth.
For more info on Pandoras Box®, visit https://www.christiedigital.com/en-gb/products/media-servers-and-players/?utm_source=Medialooks&utm_medium=blog&utm_campaign=article.
Exhibit Concepts, Inc. and InterActive Group, LLC Introduce MyCheck™ Wellness Station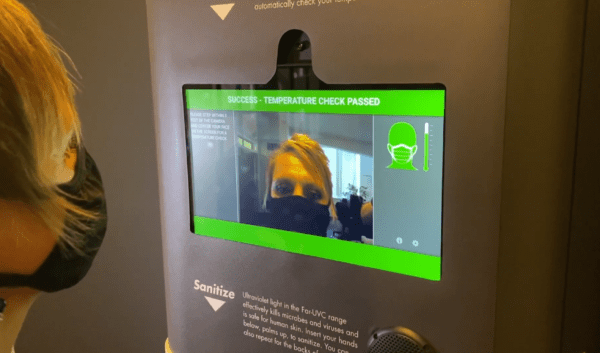 Industries from in-person events to retail and hospitality are all asking the same questions: How do we get customers back in our facilities and create the health-based confidence customers need to return? And how do we ensure that our staff feel confident regarding their wellbeing in the workplace?
In December, Exhibit Concepts, Inc. and InterActive Group, LLC, presented the answer to both these questions when they launched a revolutionary new product, MyCheck™ Wellness Station. MyCheck engages customers for two key health safety concerns—checking temperatures and sanitizing hands—quickly and with touch-free technology.
Exhibit Concepts VP of Sales and Marketing Ellen Kaminski says, "We've worked with InterActive Group on museum and visitor center projects over the years. They are a great partner, and we are proud to work together to bring MyCheck to the market. MyCheck has applications in many settings such as retail, healthcare, travel, education, etc. We chose to launch this week because of the immediate need within events and tradeshows. As we look to the future and the eventual reopening and reconvening, preparation needs to start now. Convention centers, hotels and other venues need this product at every guest and vendor entrance."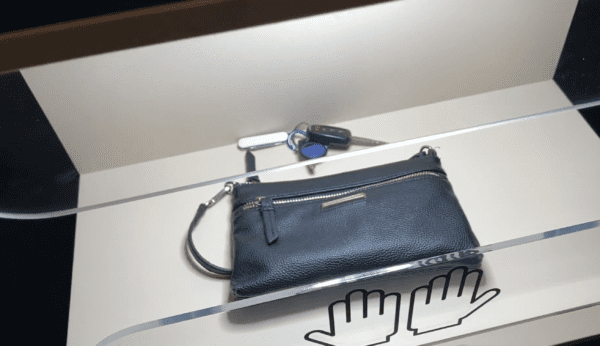 MyCheck uses advanced thermal scanning which reads body temperature to provide instant "pass/fail" temperature reading combined with the most effective 222nm far-UVC light, on the market to automatically sanitize a user's hands with up to 99.9 percent sanitization effectiveness. The device can also sanitize your keys, cellphone or wallet—anything small enough to fit inside the sanitizing station.
Key features of MyCheck include:
Touch-free activation with proximity sensors
Instantaneous thermal scanning of body temperature
Temperature digital readout
20-second hand sanitizing with filtered 222nm far-UVC light
Object sanitization
Audio narrations to create a custom, enjoyable experience with cycle completion cues
Options are available for printed receipts, facial recognition, API sync for data collection and branded graphics.
"We are excited to bring MyCheck to market as a touchless, streamlined solution that uses advanced technologies to promote safety and visitor well-being, and frankly—just to let people get on with their lives," says Paul Haynes, president of InterActive Group. "MyCheck answers major challenges and is the solution to the problem of bringing visitors back safely."
For more info, visit: www.exhibitconcepts.com/mycheck.
The Show Goes On: 2021-Model Central Florida International Auto Show Dec. 18-20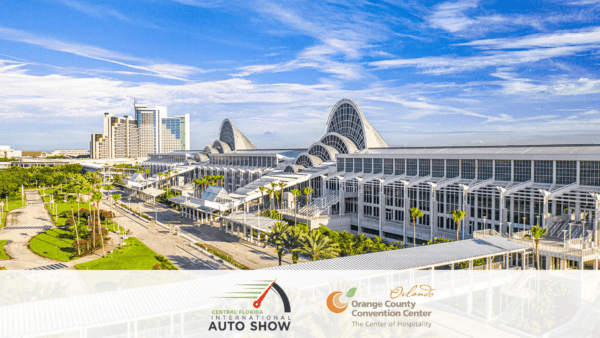 With health and safety protocols in place, the Orange County Convention Center is hosting the first auto show since the start of the lockdowns. The 2021-model Central Florida International Auto Show is taking place Dec. 18-20 and will feature enhanced health and safety precautionary measures to protect attendees, vendors, employees and the surrounding community throughout the duration of the event.
Returning to the OCCC for more than 35 years, the Central Florida International Auto Show has a longstanding reputation for success. This year, OCCC and auto show organizers are working closely to revise traditional experiences and show elements, and to prioritize the health and safety of attendees, exhibitors and employees.
The OCCC was amongst the first in the industry to unveil its data-driven Recovery and Resiliency Plan, focusing on the future of safe meetings at The Center of Hospitality. This strategy follows a direct, deliberate and actionable set of Recovery and Resiliency Guidelines, establishing the Center as a Global Biorisk Advisory Council (GBAC) STAR accredited venue, and pioneering a first-of-its-kind medical concierge program to provide personalized medical services, courtesy of Orlando Health.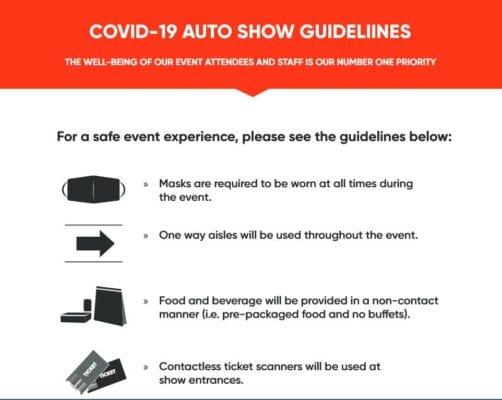 "We are grateful to be working closely with the professional team at the OCCC and the participating manufactures, in conjunction with health officials to create a safe show experience during this unprecedented time as a result of the COVID-19 pandemic," says Central Florida Automobile Dealers Association President Evelyn Cardenas. "We look forward to offering an up-close look at hundreds of 2021-model vehicles, test drives, classic cars and more, for the residents and visitors of Orlando, safely."
The OCCC will transform into a car enthusiast's paradise featuring hundreds of the latest cars, trucks, crossovers, SUVs and alternative fuel option vehicles, as well as exotics and classics. Attendees are invited to check out all the latest vehicles in this non-selling environment, talk to product specialists, inspect engines and experience the latest automotive technology.
"We continue to make enormous strides in securing our venue for the future of live events," says OCCC Executive Director Mark Tester. "Since July, we have successfully resumed hosting live events under modified operations, safely hosting thousands of attendees and exhibitors. We continue to refine and strengthen our health and safety protocols every day, so we can continue meeting safely today for a stronger tomorrow at The Center of Hospitality."
For more info, visit: https://orlandoautoshow.com.
Upcoming stories in this series will feature companies and individuals who have pivoted or created new products to survive these difficult and challenging times. Please email us at newsdesk@exhibitcitynews.com for inclusion in future stories in this series.