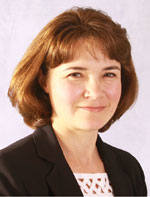 Orbus Exhibit & Display Group, one of North America's leading trade suppliers of display, exhibit and event solutions, announced recently the appointment of Aurelia Sirbu as chief financial officer.


Aurelia brings over 12 years experience in finance for the exhibit and display industry. Most recently, Aurelia oversaw the finances as controller for a leading custom modular exhibit manufacturer where she was promoted from accounting manager to controller in 2007.
Aurelia holds a Bachelor of Business degree in accounting from Loyola University of Chicago.
Aurelia will lead and manage all facets of Orbus' finance department.
"Orbus Exhibit & Display Group has grown exponentially over the past few years and is continuing to grow and expand its team," said Sirbu. "I feel privileged to be part of the company and look forward to continuous learning, improvement opportunities and achieving long-term measurable, attainable and realistic financial goals for Orbus."
"Aurelia's comprehensive understanding of the nuances of the exhibit industry will greatly benefit the entire organization," noted Giles Douglas, president and CEO of Orbus. "We are happy she is part of the team and view her as an integral part of our ability to grow, thrive and continuously meet the needs of our customers."