Owensboro Convention Center, proudly managed by Global Spectrum, completed its first full year of operation with impressive statistics.
The Center opened Jan. 29, 2014, and in its first year, it welcomed over 300 events, 27 conventions and more than 173,000 guests. With the additional meetings and special events drawing attendees from all areas of the Commonwealth and neighboring states, 5,000 local hotel room nights were generated. The estimated direct visitor spending associated with the overnight stays is more than $1 million annually in economic impact. (This figure does not account for additional spending from Owensboro Convention Center event attendees who did not stay overnight.)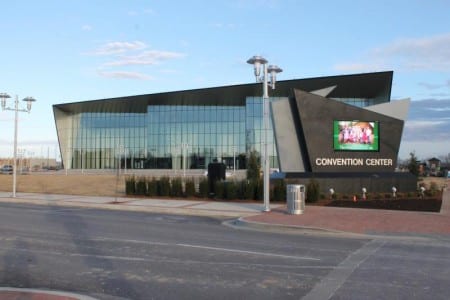 "Tourism in Kentucky is a $12.5 billion dollar industry, and the addition of the Owensboro Convention Center has not only made a great impact in Owensboro, but on our state as a whole," said Michael Mangeot, commissioner, Kentucky Department of Travel and Tourism. "The Center has served as a significant driver for the Commonwealth's overall economic health."
Furthermore, the local impact on the Owensboro and Daviess County community has been substantial. More than 240 full- and part-time employees contribute over $1.4 million in gross payroll with an additional $462,000 in City occupational tax. Procurement of goods and services required to operate the Center, such as food, beverages, event operations, staffing and advertising, contributes an average $800,000 to local and regional companies.
"I would like to thank the Owensboro Convention Center for using local vendors and suppliers to provide goods for the facility," said Mark Mattingly with the Barret-Fisher Co., the local distributor of Kimberly-Clark products. "Because of the convention center's commitment to buy locally, you are supporting local businesses and local jobs. We had one of our best years ever."
Grain Day's AG EXPO was the first event in the new center in January 2014. Daviess County Cooperative Extension Agent Clint Hardy praised the staff and management of the convention center.
"The staff worked hard to accommodate our needs, and the food and service were terrific. You helped ensure the success of the AG EXPO," he said.
The future continues to look bright for the Owensboro Convention Center with another 15 definite conventions and four firm for the remainder of 2015. The addition of the new Holiday Inn will further enhance sales efforts by offering more rooms to attract larger groups.
The Center has received numerous honors since its opening including Convention South Magazine's "Rising Destinations for Meetings" in 2014 and one of the "Top New Meeting Facilities in the South" in 2014 and 2015.