Following a new labor agreement in May 2014 at SMG managed-Pennsylvania Convention Center (PACC), the facility is reporting increased labor efficiency and a focus on customer service. For the first time since the new Customer Satisfaction Agreement went into effect, the Philadelphia Auto Show returned to the building.
On March 23, PACC released figures on labor hours for the move in and move out of the 2015 show. The report illustrated a 20 percent improvement in overall labor efficiency and lower costs compared to last year's event.
"Our show floor labor union partners are growing more efficient and doing a better job of meeting the needs of our customers," said John McNichol, president and CEO, Pennsylvania Convention Center Authority. "The new Customer Satisfaction Agreement and our union partners' focus on delivering a great customer experience are having real, quantifiable results. Streamlined work jurisdictions, expanded exhibitor rights and the establishment of a core labor workforce within each union – workers who have experience in setting up conventions and have undergone hospitality training — are making the Center more efficient and a better place to do business."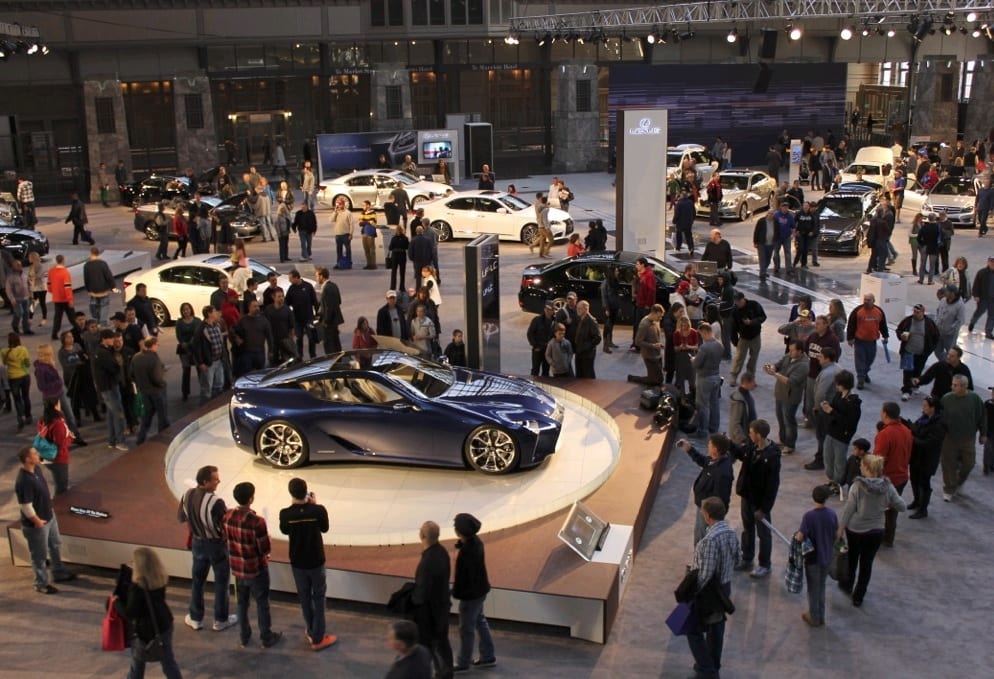 McNichol noted that comparing costs and man hours between the various conventions and events at the Center is challenging because each show is unique in terms of their labor needs, size, and exhibitors. However, the Center worked closely with the Philadelphia Auto Show to ensure the year over year figures represented an accurate comparison of comparable data.
Data from the Philadelphia Auto Show showed a reduction of more than 5,390 labor man hours on the show floor. That decline, which included savings associated with the elimination of non-working steward and non-working foreman positions, resulted in reduced labor costs of more than 20 percent for the Philadelphia Auto Show. Areas that saw significant reductions include a more than 25 percent decrease in labor costs to companies that install and dismantle booths, a 28 percent decrease in the costs of carpet installation, and a more than 29 percent reduction in Magazine Company's (DUB) related labor costs.
"Customer feedback from the numerous events we have hosted since the new agreement was put in place has been overwhelmingly positive," said Lorenz Hassenstein, general manager for SMG at PACC.
"We have seen a complete culture change on the show floor with the unions who meet the labor needs of our customers focused on service and hospitality. We have not missed a single labor call since May and it has consistently taken fewer hours by fewer workers to accomplish the same scope of work compared to prior years. The sense of comradery among the unions makes it a better place for their members to work and results in a much improved experience for customers and exhibitors. The turnaround has been remarkable."
The Board of Directors of the Pennsylvania Convention Center Authority has implemented a number of significant changes at the Center over the course of the past two years as part of a comprehensive strategy to address customer feedback and make the Center more competitive in the international meeting industry.
In December 2013, the Board awarded a contract to SMG, an internationally recognized facility manager, to oversee the day-to-day operations of the Center. SMG implemented a wide range of industry best practices to streamline processes and make it easier for customers to do business with the Center. In May 2014, four unions signed a new Customer Satisfaction Agreement that included modernized work rules and expanded exhibitor rights.
Under that agreement, exhibitors at the Center now have the freedom to set up and tear down their own booths up to 600 square feet in size, unload their personal vehicles using their own equipment, use step ladders, use certain battery powered tools, hang signage, lay floor coverings, and install and remove non-rented AV equipment.
For more information, visit paconvention.com